Best Rates for Short Term CDs Fall, But Top Long Term CD Rates Hold Their Own Starting November 9, 2009
Five more banks fell into the receivership of the FDIC last Friday, the largest of which is San Francisco-based United Commercial Bank with $11.2 billion in assets, and is said to cost the Deposit Insurance Fund of the FDIC some $1.4 billion. This failure generates more than the usual stir because American taxpayers had a stake in the bank as the federal government put in $299 million in bailout funds in exchange for preferred shares, which would only have so much value now with the bank's closure.
With government bailed-out banks closing shop, and the list of bank failures hitting 120, it would not be so surprising if some banks are now wary of offering CD rates that are way higher than other banks. After all, they also have to evaluate the overall impact their rate offerings would have on profitability and consequently, bank stability.
This is perhaps the reason why some of the previous week's highest CD rates are down a few basis points lower. Here is this week's roster of the best nationally-available CD rates: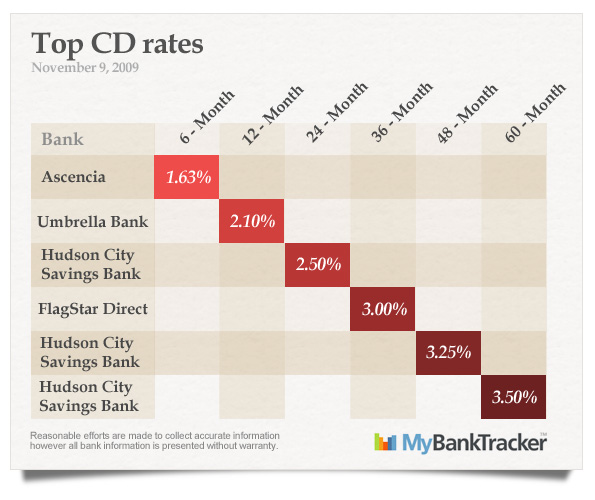 6-month CDs
Ascencia stays on top with the best 6-month CD yield but the bank made a huge cut to its rate from 1.76% APY, which has been maintained for so many weeks now, to just 1.63%, only 1 basis point shy of the next highest rate from newdominionDIRECT.
12-month CDs
UmbrellaBank.com's 1-year CD offering, managed to best other banks for the past two weeks with its rate of 2.20% APY. While this week that rate is down to 2.10%, same as that given by Amboy Direct, it still is the top CD rate.
24-month, 36-month, 48-month, and 60-month CDs
Fortunately for savers looking to maximize their investments for the long term, Hudson City Savings Bank has opted to maintain its great CD rate offerings, the best in fact for about a month now, for 2-year, 3-year, 4-year, and 5-year CD yields. At 2.50%, 3.00%, 3.25%, and 3.50% respectively, these rates are some of the most competitive around, and has brought the CD rates for these terms to higher levels than they previously were. For 36-month CDs, Flagstar Direct shares the same top CD rate.
Great CD rates may come and go, but hopefully, the habit of saving will hold on until the time comes when interest rates climb back up. With the bleak state of the economy as of the moment, it appears that we're in for a long wait, so the smartest thing that anyone can do is take advantage of the top CD rates available for now.
Ask a Question