Concern Over Swine Flu Hits Wall Street
Ok, bank managers might get big bonuses, government bailouts, and other special treatments during a financial crisis, but they also get something else just like any other average American: the flu. Recently, some of the largest financial employers in New York City, including Goldman Sachs Bank USA and Citibank, have started taking precautions against the swine flu by offering the vaccine to some of its employees.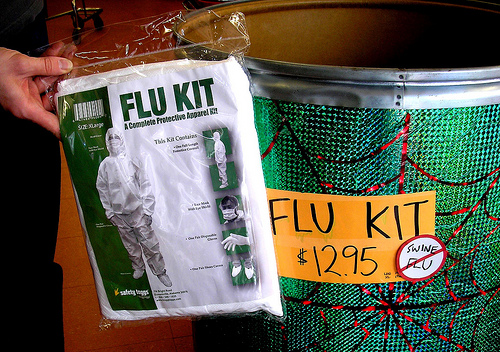 Who Gets The Shot
The H1N1 flu vaccine is still in short supply in the US, and distribution is determined by state. Generally, the shot is reserved for those at risk, such as those with chronic illnesses or who are pregnant. According to the New York Times, New York City has ordered 858,000 doses of the vaccine, with 39% set aside for school vaccinations, 21% for private pediatricians, 10% for hospitals and 6% for doctors and employee health services. (NY Times)
However, there have been some complaints as to how this distribution is working out, saying that companies like Goldman Sachs Bank USA and Citibank have received more of their requested doses than even some hospitals. According to the NY Department of Health and Mental Hygiene, Citibank has received 1,200 doses, over half of what it has requested, and while Goldman Sachs Bank USA has only received about 4% of the 5,400 does it has asked for, this is far more than the 0.7% received by Memorial Sloan-Kettering Cancer Center. Continuum Health Partners, which included Beth Israel Medical Center and St. Luke's-Roosevelt Hospital Center, had only received 11% of the 91,200 doses it requested by the end of October. (NY DOH)
New Vaccination Priority List
In a press release given this Wednesday, the Health Department, in response to a shortage of the vaccine caused by increased use and production complications, suspended recommendation of vaccinations for healthy, non-elderly adults until supplies are replenished. The new priority list is:
Children between 6 and 8 months
Adults 65 years old and older
People 19 through 64 years of age who have underlying health conditions that increase the risk of complications from influenza*
Health care workers who have direct contact with patients in the categories above
Caregivers of children less than 6 months old
* Includes diabetes, lung disease, asthma, heart disease, kidney disease, sickle cell anemia, weakened immune system, seizure, neuromuscular, and other disorders that may cause breathing problems.
A representative from Goldman Sachs Bank USA has said that the company will only supply it to employees who fall within the priority groups. One reason that these companies may have received more that other is that they requested several doses from multiple clinics, which filers might not have noticed was from one company.
For more information on the flu, visit the NY Department of Health Flu Site here.
Ask a Question