Does Citibank's New Monthly Fee On Low Balances Spell the End of Free Checking?
If you have an "EZ" or "Access" checking account with Citibank and your balance is starting to drop below the $2,000 mark, you might want to think about moving your money or getting a second job. Citibank has recently announced that it is reinstating the $7.50 monthly fee for any EZ or Access checking accounts that drop below $1,500.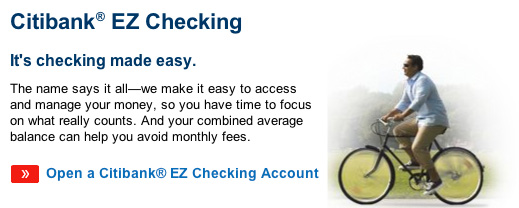 A Reward System for High Balances
Citibank has stated that this change was implemented as a way to simplify the accounts and "recognize and reward" customers who maintain the necessary balance. This policy seems to effectively separate out lower income customers, and will likely cause many of them to go to other banks, as a $7.50 fee, adding up to a possible $90 a year, can be quite a financial burden, especially for those customers with accounts that have reached the $1,500 mark.
Say Goodbye to "Free" Checking
While this kind of "penalty for the poor" fee is currently not a common practice at most banks, if Citibank doesn't lose customers as a result of this policy we may see other banks following suit. Bank fees that add up to $90 a year may seem small, but if you consider the thousands of customers at a bank like Citi that may be charged, it can become a significant source of revenue for a bank.
With new legislation that aims to limit bank charges like overdraft fees, banks have warned that it will the the customer who suffers as banks try to raise that lost revenue elsewhere. It seems that the trend has been to slowly add fees to accounts that once were billed as "free checking," as banks lose the ability to offer this sort of product to their customer.
For information on the Citibank EZ and Access fee changes, visit their website here. Note: The Access Account is not longer available.
Ask a Question