Top 5 Most Appealing Mortgage Calculators
When you're looking to refinance your home, the last thing you want to have to deal with is crunching the numbers to find out your APY or how much your monthly payments will be. Fortunately, most banks today have built in calculators and tools that can quickly and easily figure out the numbers, so you don't have to. We've looked a a few of these from top banks to try and determine which ones offered the most features and the highest ease of use.
The Top 5 Calculators
After testing some of our top rated banks' mortgage calculators and tools, we found that most of them offered great service. However, there are a few out there that are definitely better than others, especially if you consider the presentation and how easy they are to use.
1. City Bank Texas – It is a simple tool but provides a great user experience, working seamlessly and smoothly to provide you with the information you need. The sleekest features are that it automatically updates totals as you type, and there is very little load time before you are able to see your payments, interest, and estimated monthly payment once you enter your information. See the calculator here.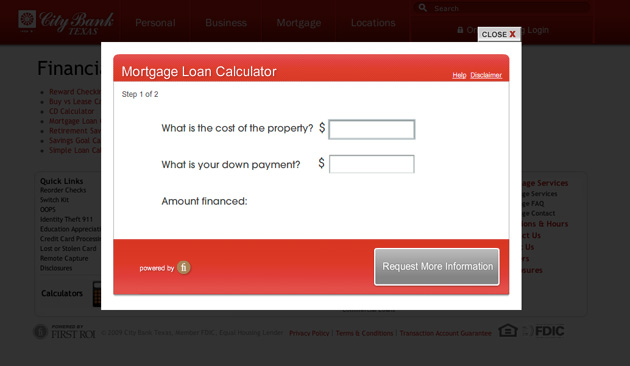 2. Mortgage.Com (Citi) – The calculators offered here are in depth and integrated, offering not just loan information but even and interactive map with estimated home value (like Zillow). After entering your information, you are able to look at graphs and tables that show loads of information like the percentage of principle to interest that you will pay over the term of your loan. What they lack in user interface these calculators make up for in the amount of information they provide. See the calculator here.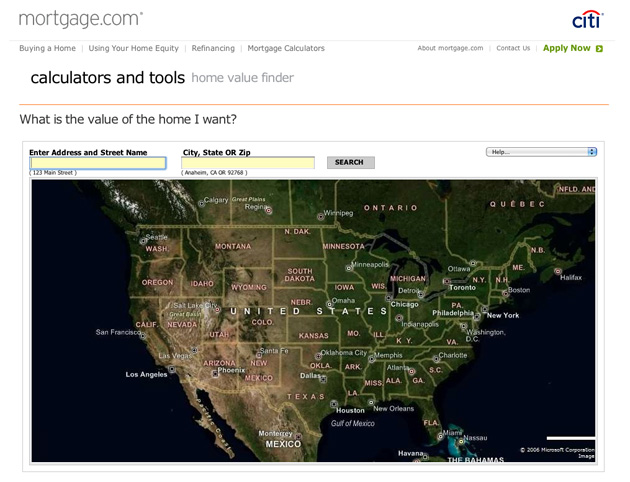 3. MetLife Home Loans – The MetLife calculator's format allows you to adjust one field at a time and adjust the results accordingly. It also allows you to enter information such as your monthly expenses and yearly income and takes this into account when making its calculations. The display was crisp, and results were reported very quickly. See the calculator here.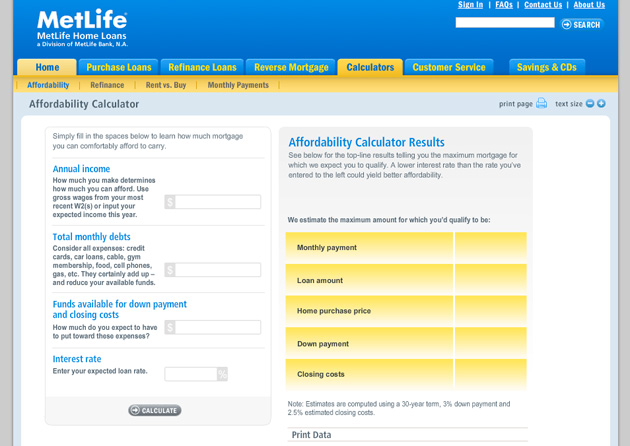 4. Bank Of The West – This set of calculators is similar to the Mortgage.com in that it offers a variety of tools tailored to specific questions you might have. While it provides a great deal of information, including graphs and tables, the navigation can be confusing. The expandable windows are a unique touch, but sometimes can be more slow than they are worth and slow and block your view to the information you want. The non-overwriting input fields can also be annoying. See the calculator here.
5. Union Bank – This downside of this calculator is that it requires that you enter a great deal of information before you are able to see results. If you don't mind spending the time to do this, however, it offer a highly detailed summary of your loan, including a detailed pay schedule. While you are given the ability to recalculate, each result page is fairly complicated if you are new to loan lingo; fortunately, it offers a list of terms with definitions. See the calculator here.
While many banks use a similar or even the same platform, there are some who have appeared to have benefited from developing their own unique functions that provide information others tools don't. Take a look through our picks and find the calculator that best matches your specific needs.
Ask a Question