TD Bank Financial Group Caters to Consumers with New Concept Banking Branch in Canada
A new TD Canada branch recently opened in Canada gives a glimpse into what banking centers may look like in the future. Appealing to a new generation of tech savvy young bank users, the branches provide the latest in digital technology as well as consumer friendly touches like a children's play area and a coin counting machine. This could be especially important in the next few years as banks attempt to present themselves as more friendly and in touch with their customers.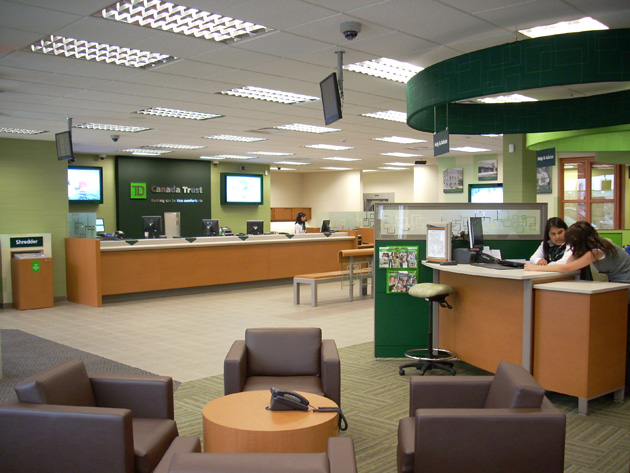 Time for a Change
Banks have followed a pretty standard design for the past 100 years; there is a row of tellers, and an office where you can meet with customer service or a financial advisor. Though banking has changed drastically even in the last 10 years, the actual branches have remained pretty much the same. However, as the way people bank starts to change, the way a bank branch is constructed will have to change as well.
As we reported in a recent article on online banking, studies show that while people are starting to do more of their banking online, they still enjoy coming to bank branches in order to get specific information or talk face to face with a banking specialist. The new TD branch addresses these issues with some of its new features.
Concept Design
In addition to a new layout, which is designed to promote consumer comfort and accommodate larger groups, the bank has many new features, including:
A lounge with a beverage bar
A children's area with computer games
A large Community Room to accommodate families or even small businesses
Digital displays providing offers and information from TD
Web Kiosks to allow customers to browse and check accounts
Online, printable brochure library
Live video conferencing with banking experts
TD Bank hopes to study this branch to determine which of these new features are most well received by their customers. If customers are pleased, similar banking centers could be opened in TD Bank's US locations as well.
Ask a Question