Despite the fact that today is Veteran's Day, a federal banking holiday, Bank of America® has not stayed at home. While the bank's branches are not open today, the company is involved in many Veteran's Day celebrations around the country, showing their dedication to remembering those who have served as well as emphasizing their brand as one closely associated with patriotism.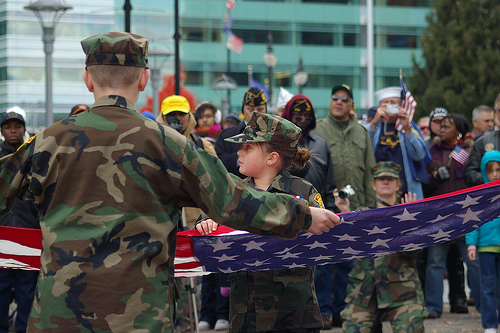 Bank of America® Veteran's Day Observances
Bank of America® has always been a bank that prides itself on its association with this country in more than just its name; through its various sports team sponsorships, including the US Olympic Team, and the New England Patriots, it has shown how being a Bank of America® customer is synonomous with being American. The bank has found another opportunity to demonstrate its patriotism today, Veteran's Day 2009, with the following activities:
Groundbreaking and presentation of $50,000 check for the Fort Taber Military Museum expansion.
Veteran's Day free community day at Boston's Museum of Fine Arts, sponsored by Bank of America®.
Sponsor of the 2009 Connecticut Veteran's Day Parade
In addition, Bank of America® has continued sponsorship at many military museum as part of the Museums On Us program. The Bank also offers extensive Military Online Banking exclusively for members of the armed services. For more information, visit the Military Banking website here.
Ask a Question