Fed Keeps Rates Low Due to Tighter Bank Lending Standards
You may already know that the Federal Reserve decided to keep its benchmark rates at all time lows for a continued period of time. Well, their decision was influenced by the fact that many U.S Banks have tightened their lending standards. Many consumers and commercial borrowers may have witnessed this first hand as they tried to secure loans and were turned down even though they probably had the right requirements to qualify.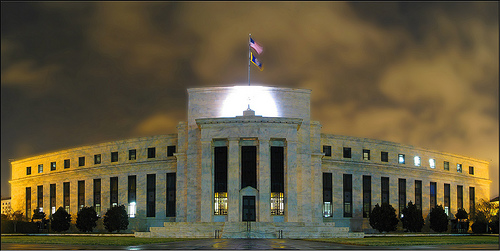 A survey conducted by the Fed of 57 U.S banks and 23 foreign banks with branches here in the U.S has confirmed lower loan figures. For one, consumer loans held by U.S banks have fell from $857 billion to $847 billion at the end of the year. These loans range from auto loans to mortgages and credit cards. Furthermore, total loans and leases held by U.S banks have fallen to $7.2 trillion as of October 28. This is down from $7.2 trillion at the end of 2008, which means that loans have fallen by a half trillion in less than a year. The Fed has also stated that nine out of ten bank holding companies have increased their reserves to handle the risk of more layoffs and sluggish economic growth.
A Silver Lining
It's important to note that even though things generally seem bleak, there is actually some good news we can pull from this report. Although lending standards are tighter, the number of banks that have stricter lending standards has decreased. If you look at the amount of banks that tightened standards for credit-card loans it's about 15 percent in August, compared with 35 percent in July. Another point to consider is that loan demand decreased at fewer banks than in the second quarter.
Loans at JP Morgan fell from $761.4 billion a year earlier, to $653.1 billion at the end of the third quarter. Also, Bank of America® loans shrank to $878.4 billion from $922.3 billion a year earlier. We see that the major banks are definitely the ones that are scaling back on underwriting loans. The major factor causing the decrease in loans was the fact that consumer spending is lower. This shows that people are trying to tap into credit lines and some of the banks are loosening up. There are also as many banks that are being stricter, however, and so while things might be looking up, this is just the beginning of a turn around and that we are not out of the woods yet.
Ask a Question