More Americans Are Paying Their Bills Online
Over the past two years banks have tried to successfully integrate their online bill payment service into the mindset of each one of their members. Institutions such as Bank of America® have seen great success, so much so that they decided to close 6% of their branches a few months ago. A survey study has been released by Experian Simmons, an organization that monitors the market's pulse and consumer information, which found that online bill payment has grown by 40% in the past two years. The study also found that as of mid-September, 14% of Americans said that they "always" pay their bills online, up from the 10% who said the same in mid-September 2007.
As this mindset continues to grow, it may be interesting this holiday season for the Postal Service when it comes time to pay bills. Don't be surprised when consumers reach for their mouse, instead of their checkbook and a book of stamps.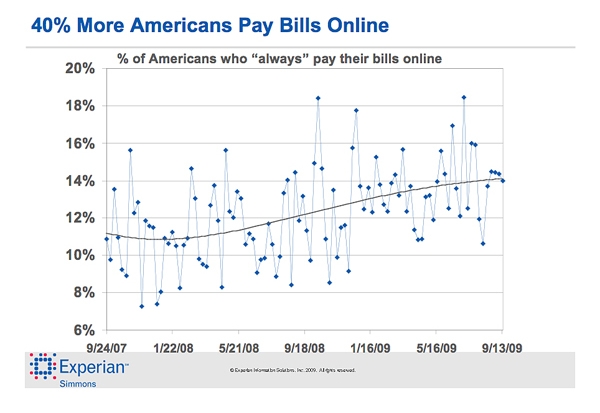 Here are some recent MyBankTracker.com bank promotions that include signing up or leveraging the institutions online bill payment service:
Bank of the West $100 Checking – sign up for a new checking account and pay 10 bills online to receive the bonus
First Tennessee $150 Offer – Receive a $150 dollar bonus when sign up for their bill payment service
Key Bank Online Bill Pay Sweeps – Complete five or more online payments with Online Bill Pay by November 30, 2009, and you'll be entered automatically in their sweepstakes.
Bank of America® offers 1 year free of McAfee Internet Security to online banking consumers
Ask a Question