10 States Nearing Financial Collapse
It seems the state of California is destined to be in the headlines at least once a week, but they may soon have some others joining them. It is not only the Golden State that has many fiscal problems running rampant but there are also nine other states that are deteriorating as well. The Pew Center on the States has compiled a report of the financial health of 50 states and it also outlines the 10 states that are closest to collapse. They use different factors such as home foreclosure rates, rising unemployment, declining state revenues, poor money management, legal and political obstacles to balanced budgets and the size of budget gaps to generate this report. You should note that there were a combination of factors leading to the rankings, not solely the size of the state's deficit or it's unemployment figure. So now let's look at these states.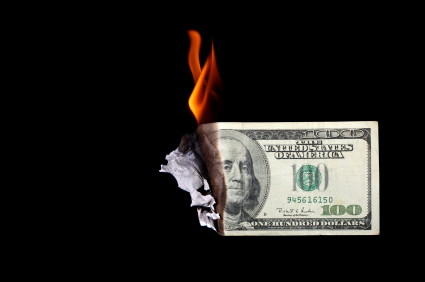 The Top (or Bottom?) 10
1. California – We'll start with the largest, California, with a budget shortfall of 49.3 percent. Yes, that's correct. They are only taking in about half the money needed to fund their expenses.
2. Arizona – In second place we have Arizona with a budget deficit of 41.1 percent. In the budget in October, the lawmakers still had to figure out how to close their $1 billion budget gap.
3. Rhode Island – Rhode Island is ranked third. This state has a budget shortfall of 19.2 percent which is lower than most of the others in the top 10. It has been documented that they have had poor fiscal management and the highest unemployment in New England.
4. Michigan – Michigan comes if after and has a budget shortfall of 12.0 percent. This state has heavily relied on the auto industry and two out the three auto manufactures based in Detroit went bankrupt in 2009. It is also estimated that the state will lose about a quarter of its jobs in the next decade.
5. Nevada – Next is Nevada and their budget deficit stands at 37.8 percent. The state budget does rely on the gambling industry for about 60 percent of its revenues. It's hard to see many people hitting the casinos anytime soon with a sluggish economic recovery on the horizon.
6. Oregon – Then comes Oregon, looking at a budget deficit of 14.5 percent. This state heavily relies on income taxes and the timber industry. A sales tax has been proposed quite a few times, but has been met by strong opposition from voters, and consequently has shut down just as many times.
7. Florida – Florida will see shortcomings of 22.8 percent in their revenues to balance the budget. The population is decreasing and that, along with the state's contributions to the housing bubble burst, has put it at this position on the list.
8. New Jersey – New Jersey is confronted with a budget shortfall of 29.9 percent due to years of poor fiscal management and unbalanced budgets. It doesn't help that the state has been in the spotlight numerous times for corruption at the highest levels.
9. Illinois – Illinois, home state of our President, is currently faced with a budget shortfall of 47.3 percent. The state has very high Medicaid bill and also borrowed heavily to meet its pension obligations. With the budget shortfall topping off at $13.2 billion, it is one of the worst in the country.
10. Wisconsin – Wisconsin is in the tenth place with a budget shortfall of 23.2 percent. This is due to a history of borrowing to cover the state's expenses.
These states are all desperately trying to make as many cuts as possible to their budgets. Some states have already received stimulus money, which has saved some jobs, but there is no guarantee that there will be more to collect. All we know is that it is going to be tough, and state may have to get creative or else face even more financial disaster.
Ask a Question