Increased Losses for Fannie Mae in the Third Quarter of 2009
The Federal National Mortgage Association, or Fannie Mae as it is more commonly known, was established as a Federal government agency in 1938 to improve mortgage credit availability. After a period as a chartered private corporation, in September 2008 it was placed into conservatorship. Fannie Mae is now officially describes itself as a government-sponsored enterprise (GSE). In this form it serves as a key player in the US housing market, with a special stress on helping house owners unable to meet their current mortgage payments and in assisting potential house purchasers of limited means.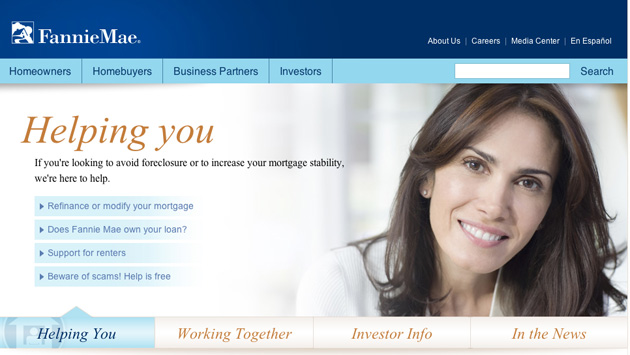 Fannie Mae's Challenges in 2009
Fannie Mae has recently been concentrating on preventing foreclosures and increasing the availability of liquidity in the mortgage market with a particular emphasis on their involvement in the government's "Making Homes Affordable" program. By September 30th 2009 they had processed or began the processing of 180,000 mortgage loan modifications. In addition to loans modified under this program they have also been actively working on other home retention strategies outside the parameters of Making Homes Affordable. For example, in July 2009 the Federal Housing Finance Agency (FHFA) authorized Fannie Mae to acquire refinance mortgage loans where the unpaid principal balance is less than 125% of the property's current value. In the third quarter of 2009 they acquired about 626,000 refinance loans.
Disappointing Yet Understandable Figures
Set against a disturbing background of rising unemployment and falling high prices leading to high levels of loan delinquency and credit losses, Fannie Mae was probably not expecting to issue an encouraging report for the third quarter of 2009. These pessimistic expectations were justified. The latest report shows a third quarter loss of $18.9 billion, representing a dramatic increase from the $14.8 billion lost in the previous quarter of 2009. These disappointing figures brought their total losses since September 2008 to $111 billion. In the light of these worrying figures, a request has been made to the US Treasury for an extra $15 billion in funding.
The only bright light came in terms of the continued strong demand for Fannie Mae debt securities, although even here there is some doubt about how the market is going to react if the government decides against extending the Treasury credit facility that is due to expire at the end of the year.
Trends Behind the Statistics
The dimensions of the housing market crisis are reflected in increasing numbers of loans entering the seriously delinquent category (which Fannie Mae applies to loans delinquent for at least three months). At the same time the proportion of delinquent loans successfully resolved or foreclosed declined. The decline in foreclosures is attributed in part to efforts made to persuade mortgage banks to explore alternatives, and to legal delays in this process in specific states. Fannie Mae expects this pattern to carry on throughout 2010.
Fannie Mae recognizes that their commitment to the Making Homes Affordable program is going to continue to be a source of significant losses and reduce the net worth of the enterprise. They hope to see longer term financial benefits for the housing market and individual credit worthiness if this program succeeds in reducing the numbers of foreclosures. The anticipated improvements are however contingent on a wider easing of the financial crisis, especially a reversal in rising unemployment.
Although many householders are being assisted to keep their homes, the figures show that the rising tide of foreclosures has not been reversed. In the second quarter of 2009 foreclosures brought 32,095 single-family properties into Fannie Mae's possession, but in the third quarter of 2009 this number increased by over 25% to 40,959.
Ask a Question