Top Banks to Opt Out of FDIC Extended Insurance
In a move primarily made to project financial stability to bank clients, the nation's top four banks have announced in separate statements that they have decided not to renew their participation in the FDIC's Transaction Account Guarantee (TAG) Program. The banks will leave the program on December 31, 2009.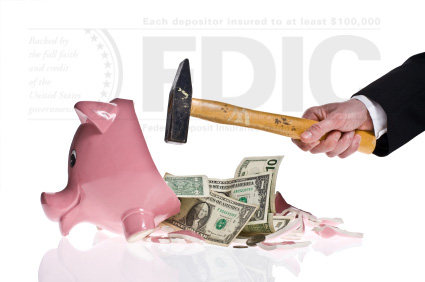 Additional Insurance for the Jittery Public
Created on October 2008 at the height of the financial crisis, the TAG program provides for extended FDIC coverage for non-interest bearing accounts like checking accounts, even if the account balance exceeded the $250,000 cap afforded by the standard FDIC insurance. It was one of several measures made by the federal government to build up consumer confidence in the banking system, thereby averting the possibility of further deterioration of the market.
Despite the hefty fees assessed for the service, more than 7,000 banks signed up for the program, and a little over a year after TAG first started, the FDIC has been able to insure about $700 billion worth of deposits that would not have been covered under the regular insurance limits otherwise.
Top Four Banks and Some
The country's biggest banks are now saying that while the program has indeed served its purpose, the financial industry has stabilized itself well enough to no longer need the added government support. Bank of America® made known its decision to leave the program last October 12, while Citigroup, Chase, and Wells Fargo made their respective announcements only yesterday (November 12).
Other banks which have also signified their plans of exiting the TAG program are the banking subsidiaries of US Bancorp – US Bank National Association and US Bank National Association ND — and Bank of New York Mellon.
Reclaiming Financial Stability, Opting Out of Fees
According to Standard & Poor's analyst Tanya Azarchs, staying in the program would indicate weakness for banks. "It'll be construed as a sign of being worried about something," Azarchs said.
Putting emphasis on the bank's ability to slowly emancipate itself from government assistance, notwithstanding the $45 billion in bailout funds invested in it, Citigroup spokesman Alex Samuelson said that Citi is "now one of the best-capitalized financial institutions in the world with a deliberately liquid and flexible balance sheet."
It also remains that another reason banks are choosing to discontinue its participation in the program is the expense that it entails. "Banks have complained about the cost of the guarantees," Azarchs said.
And the fees will only be getting heavier even as the FDIC extends the program, for those who choose to, until June 30, 2010. From the current fee of 10 cents, the charges for continuing in the TAG program will be raised by about 15 to 20 cents per annum for every $100 of deposit insured.
Ask a Question