Warren Buffett: "Worst Is Over," – But CD Rates Continue Downward Slide
If two of the world's richest men believe that things are bound to be better from now on, isn't it time we had a little faith as well?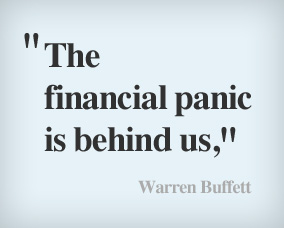 "The financial panic is behind us," said Warren Buffett. "The bottom has come in stocks."
Facing an audience of about 1,000 at the Columbia University in New York, billionaire investor and Berkshire Hathaway CEO Warren Buffet and Microsoft founder Bill Gates indulged Columbia business students, answering questions, and sharing their thoughts on the country's current economic situation.
Gates echoes such optimism. "We proved that we can make mistakes," he said, and added that even in the nation's most dire circumstances, American businesses innovated and therefore, persevered.
But while such hopeful words from these famed billionaires should go a long way with the average American, a more concrete manifestation of such recovery would have been better appreciated. For instance, how did CD rate averages play out this week? Let's take a close look: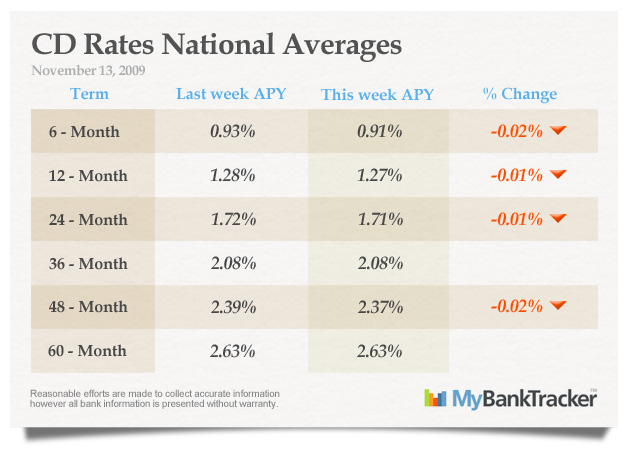 6-month, 12-month and 24-month CDs
Unfortunately, there is still no letup in the decline of short to medium-term CD rates. The 6-month CD average fell by two basis points from 0.93% to 0.91%. One-year and two-year CD averages on the hand, suffered smaller cuts, going down by one basis point each.
48-month CDs
Long-term investments, particularly the 4-year CDs, aren't your best options at this time either. CD rates for this term also saw some decline, ending at an average of 2.37% APY from last week's 2.39%.
36-month and 60-month CDs
Not all CD rate averages brought less-than-encouraging news however, as 3-year and 5-year CDs maintained their levels last week at 2.08% and 2.63% respectively. We'd take a CD rate hike any day over just maintaining it, but with the steady downward trend that's been evident in CD yields and deposit interest rates in general, keeping the rates steady is good enough for starters.
Significant CD Rate Cuts
More than just a few banks dropped CD rates across all terms this week. Some of the deepest rate cuts were made by savings bank Astoria Federal, and Valley National Bank. Citibank also made a number of reductions on both short and long term CDs, while online banks UmbrellaBank.com, AIG Bank, and newdominionDIRECT slashed rates by about 0.05% to 0.15%.
To check if your bank has perhaps bucked the trend and instead, increased their CD yields for this week, visit our CD rates page.
Ask a Question