Best CD Rates Starting Nov 16th – Same Banks and Yields, Changing Economic Scenario
Aside from having to deal with dismal CD rates, economic developments gave consumers little to rejoice about over the past week.
First, the Fed released new rules on overdraft fees last week that the agency hopes could give relief to consumers. However, banks could also make up for the loss of revenue from overdraft charges by coming up with other new fees. Or, they could also choose to lower deposit interest rates.
Secondly, the FDIC closed two more Florida banks last Friday, bringing the total number of bank failures for this year to 123. Even more are expected to follow even as 2009 comes near to a close. This should make banks even more jittery about giving too high deposit yields to consumers.
Besides, the Fed has indicated that it will continue to allow bank lending at near-zero levels for an indefinite period of time, so you don't really see the banks fighting over consumers' deposits. Well at least not by giving CD rates that bank customers feel are worth their investments.
But the question at this time though is, how high did the top CD rates go this week?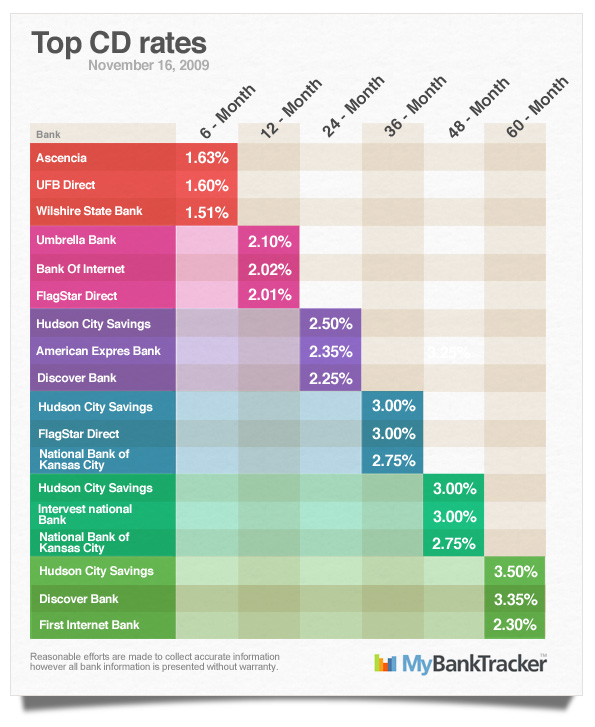 Fortunately (or unfortunately however way you look at it), the nationally-available CD rates for last week saw few changes from last week.
6-month CDs
Ascencia maintained last week's rate of 1.67% APY. For the past couple of months this, this rate had been 1.76%. UFB Direct follows with a rate of 1.60%.
12-month CDs
While UmbrellaBank.com stayed at the top of the list for 1-year CDs with a 2.10% yield, Amboy Direct which for the last two weeks shared the spot with UmbrellaBank, made a deep cut to its 12-month rate, bringing it down to just 1.75%.
24-month, 36-month, 48-month, and 60-month CDs
For the nth week now, Hudson City Savings Bank dominated the 2 to 5 year CD rates, currently giving the highest yields at 2.50%, 3.00%, 3.25% and 3.50% APY. Only in the 36-month CD does Hudson Savings Bank share the same rate with another bank, Flagstar Direct.
While, this week's highest CD rates are nothing to be overly excited about, they're our best bets for now. Besides, if we can't really have the rates we want, we might as well have the rates that for now, can give us the most income for our hard-earned money.
Ask a Question