And the New Bank of America CEO Is…Ken Lewis Again?
In the past couple of weeks, the banking world has been buzzing with questions about who will replace Bank of America® CEO Ken Lewis, who agreed to step down after this year as the bank underwent investigations into its acquisition of Merrill Lynch earlier this year. However, the process of selecting a replacement has been far more difficult than expected, and as the Merrill Lynch case begins to stagnate, many are asking whether or not it is necessary for Ken Lewis to step down at all.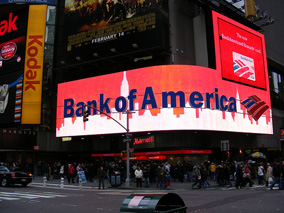 Under Investigation
New York Attorney General Andrew Cuomo is heading the investigation into the Merrill Lynch deal, and so far little has been heard as far as serious, solid charges brought against the bank or any of its executives. A few months ago Bank of America® provided the AG's office access to certain emails and confidential files that pertained to the Merrill Lynch deal, but so far no solid evidence of misconduct has come from looking through those files, except for some vague statements that emails from head executives at the bank had some idea that Merrill Lynch was failing which they did not disclose to shareholders before approving the deal.
However, if this is everything to come of the investigation, that is hardly enough to build a case around, and many worried about the scant prospects of replacement CEOs are saying that especially at a time like this, the worst thing for Bank of America® would be to bring in a new CEO with little expereince with the company. Instead, they are saying that if all this controversy of the Merrill Lynch deal does in fact just blow over, that Ken Lewis should rescind his statement that he is stepping down, and stay on as the Bank of America® head for at least another year.
Problems with Hiring: Pay Czar
It seems that wherever Bank of America® looked for a new CEO, they were met with a resounding "Thanks, but no thanks." The Bank originally was looking to hire someone from inside the company, but then began looking outside for qualified candidates, such as former New Jersey Governor Jon S. Corzine and Bank of New York Mellon CEO Robert Kelly. Surprisingly, in a climate where many are having a hard time finding a job, Bank of America® was having trouble finding anyone willing to take the $1.5 million a year job; and thats not including millions more in stock options.
Perhaps some were scared off by the controversy that has been surrounding Bank of America® or the announcement that Ken Lewis would not be receiving his salary this year. However, another issue might be due to the requirement that US Pay Czar Kenneth Feinberg approve whatever compensation package the new CEO is offered.
Ask a Question