Mortgage Rate National Averages at Lowest Point Since Early October 2009
Anyone who has been watching the mortgage market closely has seen a pretty constant decline in rates this month, following a small jump last month. Today, the 30 year mortgage rate national average hit 5.09% APR, the lowest it has been since it reached the same level last month on October 5th.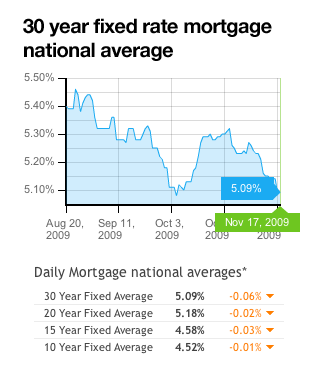 What Does This Mean For You?
Low mortgage rates are good news, especially for people who are just looking for a house now, or find themselves able to shave off a few years from their current mortgage. The latest decline in mortgage rates has actually decreased the average time from home purchase to home ownership by two years, according to some reports. But low mortgage rates can also have trickle down effects, even for those who don't have a mortgage.
Even if you yourself aren't directly benefiting from lower rates, the odds are that someone who you do business with is. For example, if your lawyer or mechanic are paying higher mortgage rates on their offices, than the odds are that they will raise their rates as well to cover the extra cost. Hopefully, with the recent decline in rates, we will see a decline in prices from business who are enjoying lower operating costs due to these rates.
Get 'Em While They're Hot
Even though rates right now are at an historic low, mortgage rates are fickle and can make huge changes in the course of just a couple months. For example, less than two months before the national average hit lows back in early October, the 30 year mortgage rates were up around 6% APR, and at this time last year, there were those who were saying the mortgage rate national averages were at an all time high. Therefore, when you see rates like these, it is important to act quickly to take advantage. If you have been trying to decide whether or not to make that jump toward home ownership, now might be the time to take out that first mortgage.
For more information on our rates and to see the national averages, visit our mortgage rates page here.
Ask a Question