FDIC Sells Real Estate To Replenish Deposit Insurance Fund
The Federal Deposit Insurance Corporation moved forward with plans last Thursday to replenish its Deposit Insurance Fund (DIF), to ensure continued protection of consumers' deposits. This is the result of having 148 banks fail since 2007, which has depleted a large portion of the reserve fund in the last few years. The FDIC has recently finished plans to make banks prepay 3 years of fee premiums in order to raise $45 billion to replenish the fund, but this is not the only way that the FDIC intends on raising money.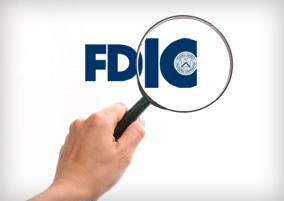 Real Estate Sales
In 1994, the FDIC raised $1.6 billion from real estate sales. In the first nine months of 2009 the FDIC has sold buildings and land, that has allowed them to raise about $727 million. According to its website, they currently have an additional 1580 properties for sale. Investors have queued up for purchases ranging from buildings to undeveloped land for the construction of everything from houses to gas stations.
Since most of the bank failures came from Georgia (27 failures since 2007), it is expected that most of the real estate sales will originate from there. In second place is Minnesota with 114 properties sold and then California in third with just 112 properties. Some potentially good news out of this is that these sales are helping the companies that are brokering the deals. Examples of such companies are CB Richard Ellis Group Inc. and Prescient Inc. Another firm benefiting from the FDIC's sales is J.P. King Auction Co., which has held the auctions for the properties.
Inventory
On the FDIC's website there are over 1500 properties for sale ranging from a $500 property in (Detroit, MI) to a $4.6 million office building in Fort Myers, FL. The most expensive property, sold in October for $53 million, was a commercial office building that was the former headquarters of Downey Financial Corp. in Newport Beach, California, with a market value of $59 million. The buyer was S.K. Hart Properties, based in Salt Lake City, Utah. They paid cash for the building, which consists of 332,000 square feet of space that is 77 percent vacant.
You can expect to see more bank failures next year, even more than this year, and that could mean that you will be seeing the FDIC auctioning off properties like these for some time to come.
Ask a Question