Chase Recruits Facebook Users to Help Give Away $5M in Charity Funds
Chase has $5 million to give away to charities and who does the bank tap to help decide which local charities get a share of the pie? Facebook users, that's who.
In a program called Chase Community Giving: You Decide What Matters, Chase gives Facebook users the chance to support their local charities by voting for them and encouraging their network of Facebook friends to do the same.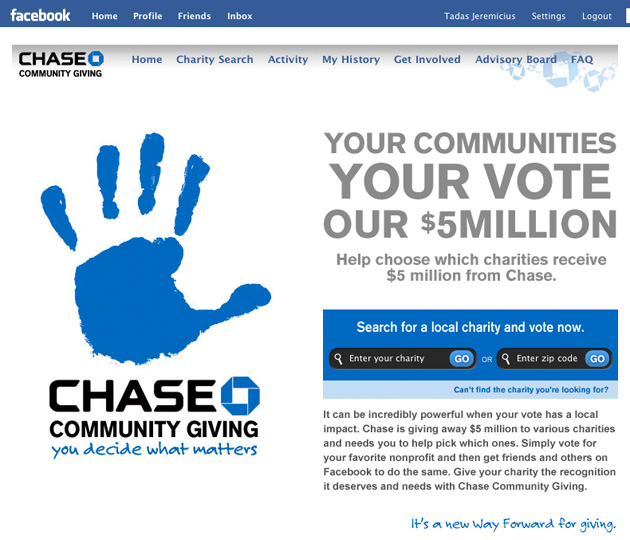 "We are moving from a centralized way of philanthropic giving to the wisdom of friends," said Elliot Schrage, Vice President for Communications of Facebook.
Facebook users can get to choose from the bank's list of more than 500,000 charitable organizations that work on an operational budget of less than $10 million. These nonprofits make a huge impact in their respective communities doing the good work they do but don't have the resources to go around lobbying for grants.
The program has two rounds. In the first round, the top 100 charities which get the highest number of votes by December 11, 2009 will each get $25,000 from Chase. In the second round of voting that runs from Jan 15 to 29, 2010, Facebook fans will again get to vote from among the top 100 charities, and the one that gets the most votes will be awarded $1 million. Five runners-up will receive an additional $100,000 each.
The remaining $1 million will be distributed by a separate advisory board composed of celebrities and experts in different philanthropic areas, to any of the committee's chosen charities from among those nominated. Winners for the first round or the top 100 finalists will be announced on December 15, 2009, while the grand winners will be revealed on February 1, 2010.
Now we know that social media sites are not only good marketing tools that business can use, or a way to reconnect with friends for most people, they can also be instrumental in helping our local communities.
According to Kimberly Davis, president of the JPMorgan Chase Foundation, "Such 'crowdsourcing' of charitable organizations lets Chase expand its giving from the 3,000 to which it currently donates."
Ask a Question