ChexSystems: Your Personal Banking Credit Report
Most people are familiar with credit reports, thanks to the bombardment of TV commercials, but many people don't know that there is a consumer reporting agency called ChexSystems that tracks an individual's management of deposit accounts with institutional banks. More easily put, ChexSystems records a consumer's history when dealing with banking accounts such as savings and checking.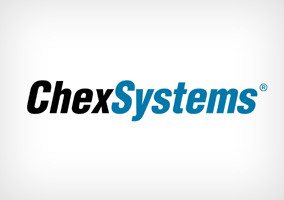 A ChexSystems report can reveal items such as negative balances, account overdrafts (e.g. non-sufficient funds), and suspected fraudulent activity by the accountholder. This information is readily accessible to 80% of all commercial banks and credit unions in the United States that use ChexSystems prior to approving an application for a deposit account. Banking institutions have been very strict when reviewing applications of those who have outstanding negative items on their report – often resulting in the denial of an account application. Just one undesirable mark is enough for most banks to turn down a consumer with a bad banking history, which has led to a number of consumer complaints regarding the difficulty of a opening checking account.
In addition to the negative items in a report, an individual can find the status of their security alerts, security freezes, report inquiries, ordered checks, and any written checks that failed to be processed by retailers and businesses can show up on the ChexSystems file.
ChexSystems is regulated by the Fair Credit Reporting Act which enables consumers to obtain a free ChexSystems report annually. If anyone who finds that the items on their report was erroneous, they may request that ChexSystems investigate the matter in order to have any item on the report removed.
With regards to fixing negative items reported by a financial institution, a consumer must contact the reporting institution to repair the negative item. Even after fixing any discrepancies on a consumer report, ChexSystems will still keep all incidents on file for 5 years.
So just like with credit cards, do not violate the terms of the financial account because someone is watching and recording any type of bad behavior and irresponsible activity – a warning sign to banks that they do not want their business.
Ask a Question