Credit Card Problems Rise and Fall: Defaults Down But Delinquencies Increase
The credit card industry remains to be one of the hardest hit sectors as unemployment rates continue to rise with no respite seen in the near future.
While credit card defaults or charge-offs, fell for the month of October by a higher percentage than expected, recent data released also shows that delinquencies grew last month.
Actual figures
The data found in the table below shows that the charge-off and delinquency trends are consistent for most of the six major US credit card companies. Only American Express Co., the biggest credit card issuer by purchases, bucked the trend by managing to maintain the percentage of cardholders who were behind in their payments at the same level as last month's.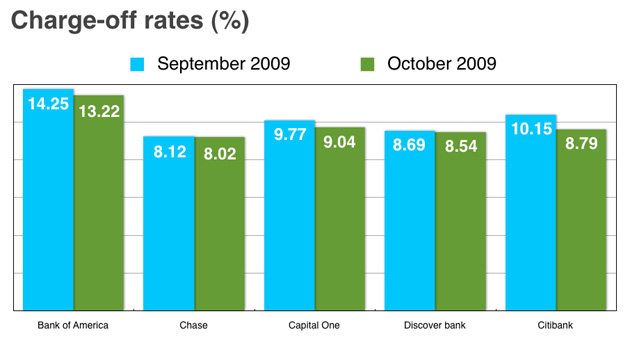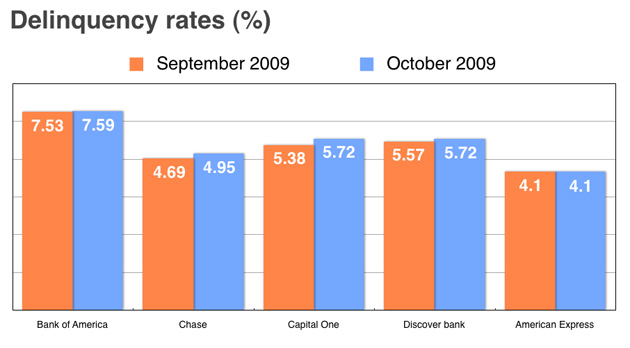 Credit card delinquencies vs. charge-offs
As a general rule, a credit card account is deemed to be delinquent when a payment is already more than 30 days overdue. Charge-offs, on the other hand, are accounts that the issuing company believes it will no longer be able to collect. The slight decline in charge-offs or defaults shown in the above data is a result of the slowdown in delinquencies earlier this year due to tax refunds and government moves to stimulate the economy.
At this point however, the increasing rate of late payments should be a more telling indicator that hard times are still ahead. Unemployment is the biggest factor that can bring about credit card delinquencies, and as jobless rates enter the double digit figure, credit card issuers should prepare for more losses.
Balances increasing as holidays approach
Recent data from two credit card tracking firms, Synovate Mail Monitor and Credit Karma, shows that with the holiday season approaching, average credit card balances for October increased as consumers who had earlier kept their wallets shut, now used their credit cards to make new purchases. The economic crisis was said to have developed in Americans better spending and saving habits, but apparently not enough for some to resist the lure of the busiest shopping season.
As John Ulzheimer, president of consumer education for Credit.com puts it, "It's silly to expect people to have a complete change in the model of how they buy things forever – and especially in the holiday season."
If this trend continues over the next two months, it could spell another wave of credit card delinquencies, and ultimately defaults, in the future.
Ask a Question