Savers Left With Fewer Options as Hudson City Savings Lowers Top CD Rates
Senior Federal Reserve official James Bullard said Thursday that he was "hopeful" of the country's potential for strong economic growth as the year closes out. He was however, levelheaded enough to realize that as far as unemployment is concerned, things would remain tough at least before 2010. The US lost 190,000 jobs in October alone, bringing the jobless rate to a 26 year high of 10.2%.
Yet even with Fed officials releasing statements that convey optimism, consumers still find it difficult to get a glimpse of that recovery in sight as news of more job losses, rising credit card and mortgage delinquencies, and falling deposit rates continue to hound us.
This week alone, the country's savers were dealt with a rather severe blow as Hudson City Savings Bank, the New Jersey-based banking institution that for the past weeks has offered consumers the best CD rates for the 2 to 5-year terms made cuts in its CD rates. The bank lowered yields by 0.10% in its 12-, 13-, 18-, 24-, 36-, 48-, and 60-month CDs.
Fortunately, some banks also increased their CD yields this week so that on the whole, CD rate averages this week didn't drop too far down.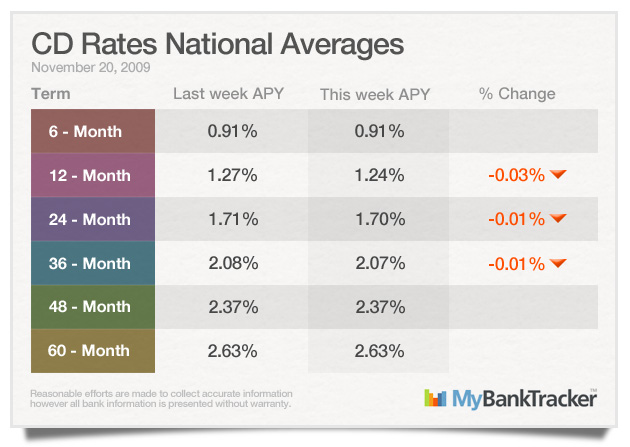 6-month CDs
The 6-month CD average rate was maintained at 0.91%. A major factor that helped keep the 6-month average at the same level as last week's despite some banks slashing their 6-month CD yields, is the 0.30% rate hike made by Onewest Bank, Fsb on its 6-month CD.
12-month CDs
The 1-year CD rate average dropped the most this week, going down three basis points from 1.27% to 1.24%. Among the banks that made rate cuts for this term were Amboy Direct (-0.35%), Bank of Internet (-0.37%), and Wilshire State Bank (-0.25%).
24-month CDs
The CD average rate for 2-year CDs also fell, although by only one basis point from 1.71% to 1.70%. The banks that contributed significantly to this rate drop were banking giants Bank of America® (-0.26%) and Citibank (-0.25%).
36-month CDs
The 3-year CD average rate also went down by one basis point, going from 2.08% to 2.07%. Bank of America® made the biggest rate cut for this term from 2.30% to 1.86% (-0.44%), while both Citibank and Hudson City 36-month CD rates fell by 0.10%.
48-month CDs and 60-month CDs
Both 4-year and 5-year CD rate averages held their own this week, keeping levels at 2.37% and 2.63% respectively.
To see if your bank has perhaps raised or lowered their CD yields and contributed to the changes in this week's CD rate averages, check out our CD rates page.
Ask a Question