Best CD Rates For This Week – Hudson City Savings Still Tops Despite Rate Cuts
The FDIC had a relatively quiet weekend with only one bank closure last Friday – Commerce Bank of Southwest Florida. While it would be encouraging to imagine that perhaps the onslaught of bank failures that have rocked the country may finally be tapering off, it would also be unrealistic to do so. The FDIC says that there are still hundreds of banks across the country that are struggling to stay afloat in this economy that is just slowly showing signs of recovery.
That banks are still finding the right balance between giving depositors the best yields for their hard-earned money and keeping an eye on profitability is evident with the slew of rate cuts that we have had for the past week. Even the CD yields that make it to our best CD rates list are lowered after some time, giving savers fewer options to maximize their investment. That said, here are our top CD rates for this week starting November 23, 2009.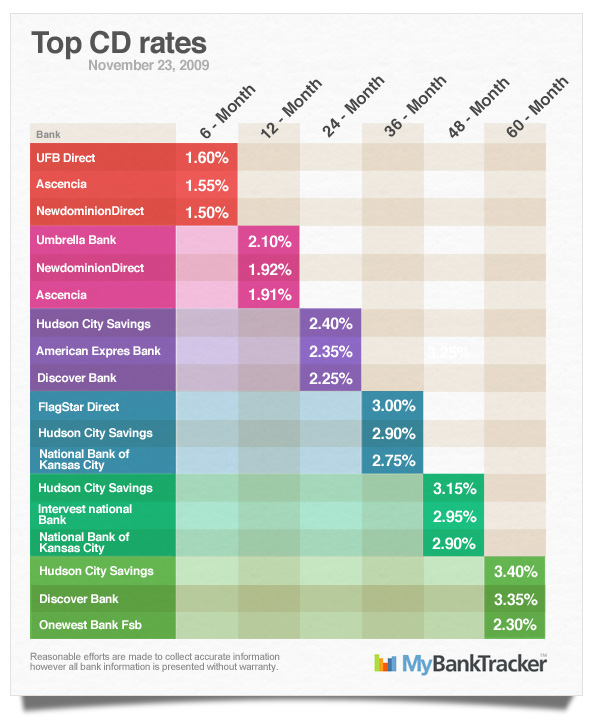 6-month CDs
After staying on the top spot for the past few months, Ascencia finally dropped its rate, giving way to UFB Direct which now offers the highest 6-month CD yield at 1.60%. Ascencia however, isn't too far behind at 1.55%, followed by newdominionDIRECT at 1.50%.
12-month CDs
UmbrellaBank.com continues to lead this week's 1-year CD rate with a yield of 2.10% APY. Online banks newdominionDIRECT and Ascencia follow with 12-month CD rate offerings at 1.92% and 1.91% respectively.
24-month CDs
While Hudson City Savings Bank dominated long term CD rates for the past weeks, it recently lowered its CD yields by 0.10% for 2-year to 5-year CDs. However, it continues to offer the best CD rates for 2-year CDs at 2.40% APY, with American Express Bank and Discover Bank following at 2.35% and 2.25% respectively.
36-month CDs
With Hudson City Savings Bank's 3-year CD rate lower by 0.10%, FlagStar Direct now offers the highest 3-year yield at 3.00% APY. Hudson City Savings is a close second 2.90%, while National Bank of Kansas City is third at 2.75%.
48-month CDs
At 3.15% APY, Hudson City Savings Bank continues to give the best 4-year CD yields even with the slight rate reduction. Intervest National Bank, which follows, is a good 0.20% lower at 2.95%.
60-month CDs
Five-year CDs continue to be dominated by Hudson City Savings Bank with its rate offering of 3.40% APY. The next two highest rates are from Discover Bank at 3.35% and OnewestBank, Fsb and First Internet Bank at 3.30%.
The highest CD rates featured today are nowhere near the yields we've seen in better times. But these days, it's really seldom that we find CD rates this competitive. Your best bet would be to lock in on a good CD rate as soon as you find one, before they go further down.
Ask a Question