5 Financial Tips For Shopping Wisely On Black Friday
The popular day-after-Thanksgiving shopping frenzy is approaching soon, and whether you are new to this shopping tradition or a seasoned veteran, everyone can use some financial advice to make the most of Black Friday. This shopping holiday is notorious for the early bird discounts and highly competitive shopping amongst consumers.
Take note of these tips to prepare for money-smart shopping: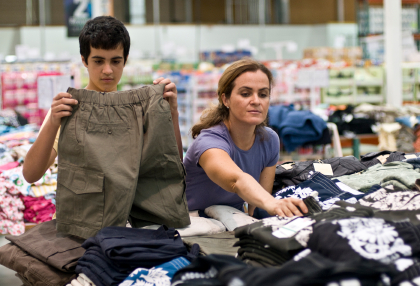 1. Compare the prices
If you are waking up at 3:00 AM, you're going to want to get the biggest discounts and save the most money for your time and effort. Compare the prices for the items you want to buy beforehand to find out which store to hit first to get the best deal possible. With thousands of other shoppers hunting for the same deals as you are, you probably won't be able to get to another store in time to get the best deals. Find the store where you will save the most on your purchases and get on line.
2. Create a budget for the day
With all the hype built into Black Friday, it is easy to spend more than you intended to – which means you didn't really end up saving much on the biggest shopping deals of the year. Before you begin your shopping spree, set up a budget for the day. Do so by scouring the Black Friday ads early and knowing which items you intend to purchase. After making a list of what you want, adding up the total that you expect to spend will create a resistance point in your mind that you have already spent too much money and that you need to stop.
3. Consider carrying only cash or use a debit card.
To compliment the strategy of creating a budget, having just enough cash on hand will be a great financial barrier to overspending. Not only do you know how much you should be spending for the day, you physically can't afford to buy any more stuff when you have already spent what you have. If carry cash doesn't seem to be a viable option, utilizing a debit card is a great alternative – since it limits your spending ability to the amount of funds you have available.
4. Use that rewards/cashback credit card.
Despite lacking the restraint properties of cash or a debit card, credit cards may be the best method of making payments for your purchases if you can resist spending too much. Black Friday purchases are most likely to be some of your largest this year, and it is therefore a great time to rack up points or cashback on a rewards or cashback credit card.
5. Know the store's policies on coupons and returns
It is a good idea to verify a store's Black Friday policies before the hoards of shoppers crowd the cashiers. Should you have a coupon and find that it wasn't valid on your purchase, you do not want your dreams of a deal to be shattered while having impatient shoppers yelling at you to hurry along. Knowing the store's return policy may also turn in your favor when your item's price drops a week after your buy it. Some stores will give a price adjustment (a partial refund) if the item you purchased became cheaper within a certain time period after you bought it.
Black Friday offers some great deals for the prepared shopper. These five simple rules can help you to have a successful shopping day, and make you look and feel like a pro when you see the dazed look of other, less prepared shoppers milling around the aisles this Friday. Good luck!
Ask a Question