Chase Announces Launch of Two New Exclusive Business Cards with Benefits For Checking Customers
Chase is looking to make good on its promise to increase its lending to small business owners. Today, Chase added two new cards to its "Ink" line of business credit cards that give rewards to customers with Chase business checking accounts. These new cards follow an announcement last week by Chase that stated it would be expanding its credit lending by $4 billion in 2010 in order to provide businesses with increased access to working capital.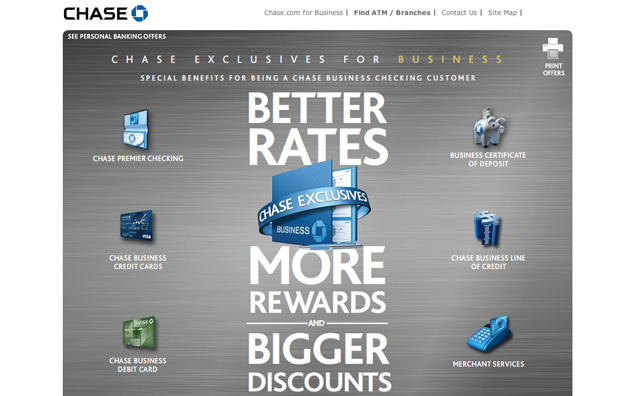 The New Cards
Both cards are designed to give its customers additional benefits such as interest payment refunds or purchase rewards through the Exclusive Benefits rewards program. The two cards are:
Ink with Exclusive BenefitsSM– this card is designed for business owners looking to maximize their rewards. Business checking customers earn up to 20% bonus (1.2 point to the dollar) with unlimited points that never expire.
Ink Capital with Exclusive BenefitsSM – this card is for business owners who want to manage their cash flow with a low interest rate. If the customer sets up direct payments of their monthly credit card bills from their business checking account, Chase will refund their 12th month's interest.
Both cards are fee-free.
Specific Benefits for Small Business Owners
In addition to providing small business owners with increased access to capital, the new cards provide services that specifically address the needs of small businesses, such as:
Online expense management tools to manage their business spending, complete with online reporting capabilities as well as customized reports on spending that can be categorized, sorted and downloaded to accounting software for easy tracking and tax purposes
Additional cards for employees with individual spending limits and custom alerts delivered via email or text to track employee spending
Ability to control and customize payment terms through BlueprintSM
Access to a dedicated team of business specialists who understand the unique financial needs of small business owners
Additional security with fraud and purchase protection features that provide peace of mind for small business owners
The cards are not the only exclusive business deals offered by Chase; they also provide a Business CD, Line of Credit, Debit Card and Merchant Services as well as the Premier Business Checking Account. To take advantage of these offers, visit the Chase Exclusives for Business website here.
Ask a Question