Chase Paymentech Announces "Cyber Holiday Pulse Index" will Track Online Shopping Activity in Time for Cyber Monday
Everyone has heard of Black Friday, but the newest shopping day phenomenon is Cyber Monday, the holiday shopping seasons online equivalent to Black Friday. Online shopping has become a very important part of the tremendous retail revenue that is recorded over the holiday season. In order to track that new source, Chase Paymentech, a subsidiary of JPMorgan Chase, has announced that it will for the third year in a row track online shopping transactions to create a report on shopping trends for this holiday season.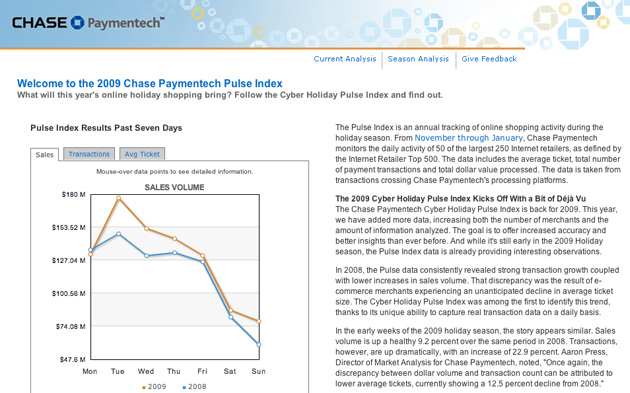 Chase Paymentech
Chase Paymentech is a merchant acquirer and payment processor affiliated with JPMorgan Chase that authorizes transactions in more than 130 currencies across different payment types including debit cards, credit cards, stored value/gift cards and electronic check processing. This year, Chase Paymentech plans on tracking over one million payment transaction daily at 50 top US retail websites.
Last year, the company reported the economic toll that the financial crisis had for online shopping, demonstrating that while sales volume and total transactions increased, the average "ticket" or amount per sale, went down. Basically, this amounts to people buying more "stocking stuffer" type gifts, meaning a greater number of inexpensive items rather than fewer expensive gifts.
Understanding the Marketplace
Especially during these tough economic times, it is important for businesses to be able to understand what consumers are and are not buying, and how to market products to today's unique market. Chase Paymentech processes an estimated 500 Internet transactions per second, which means that it processes more than half of all Internet payment transactions, and therefore its information is invaluable to merchants.
Current estimates are that consumers will increase their online spending by 8% over this holiday season. With exactly one week until Cyber Monday, Chase Paymentech has announced just in time their plan to follow the shopping activity with the "Cyber Holiday Pulse Index."
Cyber Holiday Pulse Index
The Index itself isn't available only for business owners, however. Chase Paymentech provides a website that allows anyone to watch the holiday shopping season roll out in numbers, with Sales, Transactions, and Average Ticket data charts updated every day at 2:00 P.M. EST. Information will be monitored from November 5th through January, and an RSS feed is available for those who want the information sent to them automatically.
For more information on the Cyber Holiday Pulse Index, visit the website here.
Ask a Question