Discover Announces New Site Dedicated to Cashback Rewards
Ever wonder just how much your credit card rewards are adding up? Well now you can find out quickly and easily online with Discover's new ItPaysToDiscover.com, the lender's a one stop website for all of its rewards cardholders. The site offers exclusive deals and shows how much and where its consumers are receiving rewards in the cardholders local area, and around the country.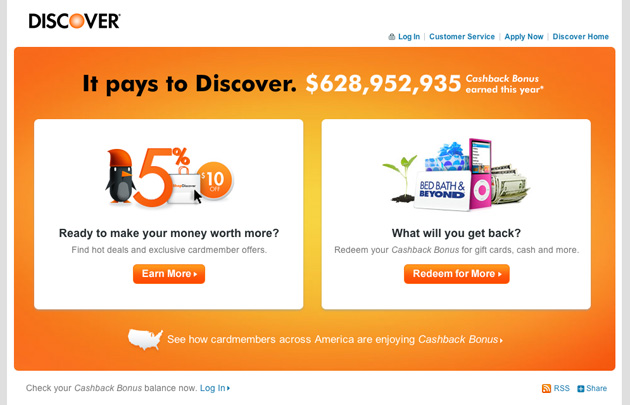 The ItPaysToDiscover.com website is sleek and easy to navigate Discover credit cards rewards, offering easily accessible lists of participating vendors, links to its 5% cashback bonus deal, and the most striking feature, an real-time map of the US that displays cashback rewards that are being redeemed while you watch. The site also has a running counter of the total cashback bonuses earned this year.
The site is most useful for Discover cardholders who aren't sure how to get the most out of their Discover rewards card. The site provides offers such as seasonal promotions like Double Cashback bonuses, and shows you the many ways you can use your Discover Rewards card to redeem cash, such as with a direct deposit, or with over 100 merchant partner gift cards that can increase the value of your rewards. In the spirit of the season, Discover also makes it easy for you to donate your rewards to your favorite charity.
The I Love Cashback Bonus Blog
Another addition to the site is the I Love Cashback Bonus Blog, where cardholders tell their stories about how they have saved using their Discover Card. This not only can give you ideas about where you can save with your Discover Card, but also connects Discover cardholders with other members of the Discover Rewards community.
Cardholders are also able to sign on to check their own personal Cashback Bonus balance. For Discover card members who want a comprehensive look on the Discover rewards program, ItPaysToDiscover.com is the place to go for all your Discover Rewards needs.
Ask a Question