Zion's Bank Presents EZ Budget Online Budgeting Tool
Zion Bank has released a new tool that helps you organize and keep track of your money so you can stay on budget. The tool is available for free for both customers and non-customers on Zion Bank's website. All they require is that you enter your name, email and a password, and you can have access to this great, very comprehensive budgeting tool.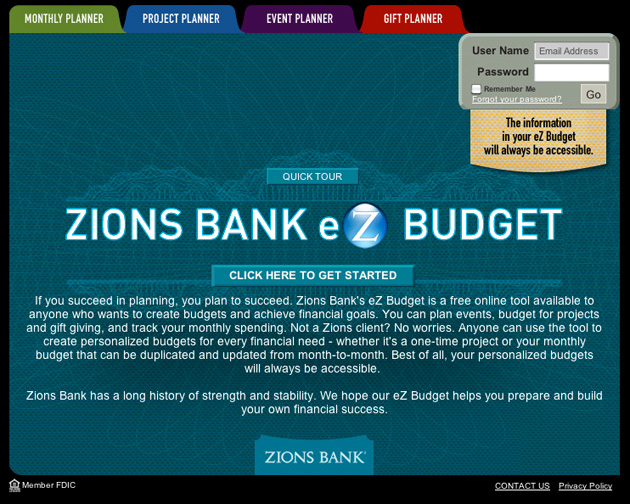 The Monthly Planner
The EZ Budget tool provides you with month by month planning to keep all of your income and expenses accounted for and to help you plan in order to save for the things you may want to buy in the future. It separates your monthly expenses into categories, and allows you to create an expense list with estimates the amount you will spend on different items in each category, and subtracts that from the starting balance that you enter, leaving yo with your balance for that month. Adding a new category or expense item is as easy as clicking a button.
The tool also provides you with an updated budget that displays how much you have actually spent and how much you had estimates you would spend, as well as the difference so you know how much more you have left before you have reach your budgeted limit. This tool also can be automated for recurring purchases; by marking a monthly expense as 'fixed' rather than variable, you can have the same amount show up as an expense every month. This is especially useful for expenses that you know will occur every month, like rent and car or mortgage payments.
Zion Bank Provides Great Online Tool
In addition to these features, the tool also provides a pop-up text field for notes, and allows you to print your budget so you can tape it to your fridge or somewhere you will be able to see it every day. All in all, this is one of the most comprehensive budgeting tools offered from a bank, and as its available to everyone, Zion customer or no, if you feel you need help with your budgeting, Zion is the place to look.
You can register, as well as view a quick tour of the tool, on the Zion Bank website here.
Ask a Question