Date Set for Hearing on Bernanke's Nomination for Another Four Years at the Fed
The name Ben Bernanke has become synonymous with this financial crisis, and this could be either a good thing or a bad thing depending on how the Senate Banking Committee feel about his actions thus far as they consider his renomination as the Chairman of the Federal Reserve Board. Senator Chris Dodd stated that the date for this review has been set for December 3rd of this year.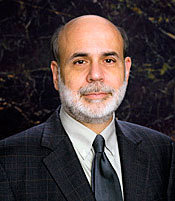 Answering the Hard Questions
When Bernanke was nominated for another term by President Obama last August, some politicians express displeasure, hinting at the fact that Bernanke might not be the best man for the job. However, the Senate is expected to sign off on Bernanke's reappointment, despite the fact that he will undoubtedly undergo some tough questions from both sides of the political fence on the 3rd. Senator Dodd was quoted as saying that while "Chairman Bernanke was too slow to act during the early stages of the foreclosure crisis" he overall exhibited "effective leadership and his reappointment sends the right signal to markets."
A Chance to Air Out the Fed's Decisions
Whatever the Senate's final decision about Bernanke is, the hearing is bound to be an interesting an informative account of the actions taken by the Federal Reserve during the crisis. Many lawmakers will use this as an opportunity to air out their concerns and grievances concerning some of the Fed's decisions, and Bernanke will be held accountable for many of these decisions. Another political motivations that this hearing will touch on is the concern over transparency at the Fed raise by Rep. Ron Paul (R-Texas) who passed a decision to expose the central bank to an auditing process by the Government Accountability Office (GAO).
The hearing is bound to be a heated discussion, and will hopefully answer a lot of the questions many of us have about the way the crisis was dealt with by the central bank. Bernanke, who took over the Fed from Alan Greenspan in 2006, and has been both lauded and criticized by lawmakers for his actions in dealing with the financial crisis.
Source: Reuters
Ask a Question