Mortgage Rates National Averages Drop to Record Lows
If you've been watching mortgage rates for the last few weeks, you have seen them inch downward slowly but noticeably recently, which is no small feat, as many of them were already resting at rock bottom levels at the beginning of this month. However, this past week — just when you thought they couldn't go any lower — rates dropped again. This put the national averages at the lowest rates we have seen yet.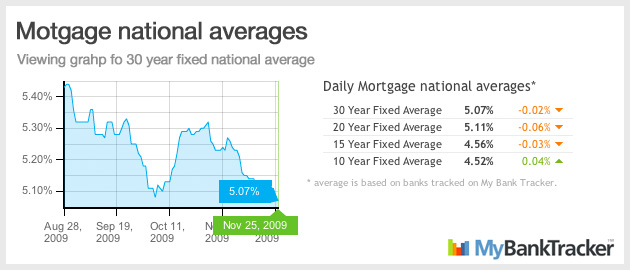 15-30 Year Fixed Rates
Surprisingly, our 15 year national average is the lowest with a rate of only 4.56%. This is a full 0.2 decrease in percentage points since around this same time in the last month.
20 year Fixed rate averages made the biggest jump in the last month, with a still low rate of 5.52% on October 25th plummeting to an all time low of 5.11% today. This jump of 0.41 percentage points is almost twice as much as the changes in the 15 and 30 year averages.
The 30 year average also has gone way down in the last month, dropping .23 percentage points to lie at 5.07% today.
These are the lowest rates we have since since early October, when all national averages took a dip in part due to a strong demand for US Treasury bonds and the Fed's decision to buy up debt and mortgage backed securities from Fannie Mae and Freddie Mac.
10 Year Averages Show Less Change
The one and only average that remains above its early October levels is the 10 year mortgage rate, which lies at 4.52%, which is still a very low rate, but above its 4.45% October 3rd record low. However, one thing to note is that even though it rose .04 point today, it still has dropped .25 percentage points in the last month.
Our Mortgage Rate National Averages are based on the rates provided by the banks tracked on this site. Visit our mortgage page for more details.
Ask a Question