1 in 4 Borrower's Owe More on Their Mortgage Loans Than Homes are Worth, Says Report from California
When you take out a mortgage to pay for your loan, the last thing you want is to end up paying more on that mortgage than your house ends up being worth. Often you get lucky, and the real estate value grows faster than your loan accrues interest, but especially during this recent financial crisis, 25% or the time this has not been the case.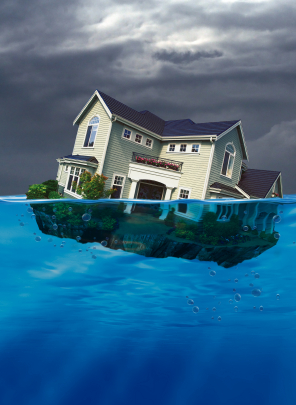 Negative Equity
A report from First American CoreLogic, a real-estate information company based in Santa Ana, CA, states that in the 3rd quarter of 2009, almost 10.7 million households had negative equity on their homes. This means, roughly, that the amount of money that they have to pay on their loans exceeds the amount of money that their house is worth on the real-estate market.
These so called "underwater mortgages" generally end up in foreclosure, and pose a threat to the recovery of the housing market. Recently the Fed reported that 520,000 homeowners with negative equity who's mortgage was valued at at least 20% above the value of their home, received a default notice.
Four States Marked as Hardest Hit
Of all the areas that have a high risk of default, Florida, California, Nevada, and Arizona were marked as having the highest rate of "underwater" mortgages, with 30% or borrowers owing 50% or more above the value of their home.
This news comes despite the fact that home sales have been up this month, with the real estate market reporting a surge in home sales for the second month in a row in October.
Ask a Question