Best CD Rates for The Week Starting November 30, 2009 – Top Rates on a Downtrend
Last week was Thanksgiving week and FDIC officials took a break from shutting down banks, giving some troubled institutions something to thank about. It can be recalled that only a few days ago, the federal agency announced that the number of banks on its 'problem list' had already grown to 552 from only 416 at the end of the second quarter. And that's just half of the picture as the FDIC also revealed that the Deposit Insurance Fund had already entered into negative territory.
The good thing is, the FDIC also gives assurance that depositors' insured funds are safe as prepayment charges to be assessed on banks will replenish the fund, and the agency also has the option of tapping a credit line with the US Treasury.
So with that issue out of the way, what consumers really need to be concerned about now is how to maximize their returns on deposit investments. While regulators took a break from declaring bank failures last holiday week, banks on the other hand, did not let up on making rate cuts – including those that have been giving the best CD rates.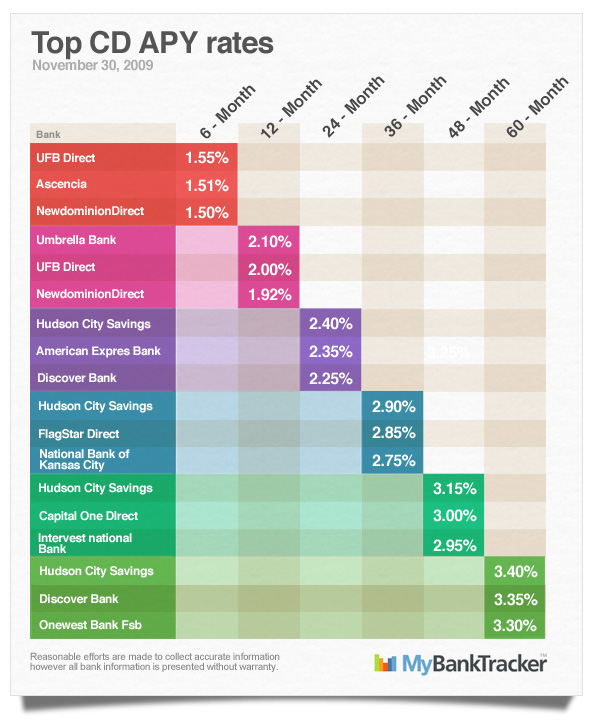 6-month CDs
Short term CD rates continue their downtrend. The top three banks offering the best 6-month CD rates remain the same but rates for this term have dropped. Last week's rates of UFB Direct and Ascencia at 1.60% and 1.55% respectively fell to 1.55% and 1.51% respectively this week.
12-month CDs
Yields for 6-month CDs have made a turn for the worse but 1-year CD rates are looking up a bit. UmbrellaBank.com offers the same highest 12-month rate of 2.10%, and the next highest rate is at 2.00% from UFB Direct. This is a step up from last week's 2nd highest rate of 1.92% from newdominionDIRECT.
24-month CDs
Highest CD rates for 2-year CDs remain the same with Hudson City Savings Bank, American Express Bank, and Discover Bank offering 2.40%, 2.35%, and 2.25% respectively.
36-month CDs
Three-year CDs also suffered rate cuts as FlagStar Direct's 3.00% rate that has been maintained for the past few weeks went down to 2.85%. Offering 2.90% for 36-month CDs, Hudson City Savings Bank now offers the best rate for this term.
48-month CDs
Hudson City Savings Bank still offers the top yield for 4-year CDs with its rate of 3.15%. Capital One Direct is a close second at 3.00%, while Intervest National Bank is third with 2.95%.
60-month CDs
Five-year CDs also remain unchanged from last week with the same banks offering the same rates. Hudson City Savings Bank is the best option with a rate of 3.40%, followed by Discover Bank offering 3.35%, and both OneWest Bank, Fsb and First Internet Bank with 3.30%.
For an updated list of the best CD rates in your area, check our comprehensive database of CD rates available.
Ask a Question