Chase Bank Gift Planner iPhone App
What we thought was a new holiday application from Chase Bank, turned out to be an annual app for those looking to plan their future gifts for friends and family. The application was developed by The Archer Group, but Chase Bank saw an opportunity and skinned / relaunched it as a branded app, making this Chase Banks second iPhone / iPod Touch application.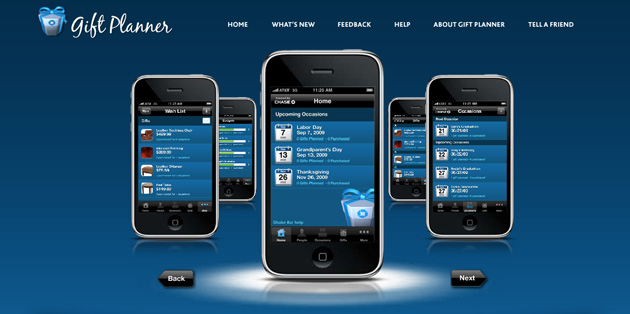 The app is designed to help you stay organized as you shop for your friends and family. With the help of the Chase Bank Gift Planner you can now track your budget, make your list, and check off as you go; additional the new Chase branded app also allows you to:
New – Can organize events by occasion & recipients in your gift list
New – Alerts to remind you about events
New – Add new recipients without having to add them as an iPhone contact
New – Enhanced stability to increase convenience and ease of use
Create gift-buying budgets using default groups (Friends, Family, Business) or customized groups
Enter gift ideas and the amount you want to spend for each person
Snap photos of intended gifts and attach them to the item description
Track the actual amount you spent on each gift versus the amount you intended to spend
See a snapshot of your total budget versus what you've already spent and how many dollars are remaining
Keep track of the number of gifts you purchased and organize business (tax) related gifts from non-business (non-tax) related gifts
Create your own "wish lists" and send to friends and family to help them find just the right gift for you
The application can be downloaded here (iTunes Link) or you can check out the snazzy website by visiting here.
Ask a Question