Citibank Opts-Out of FDIC Transaction Account Guarantee Program, But Accounts Remain Insured to $250,000
Citibank customers and visitors to the banks website may have recently received a notice that the FDIC Transaction Account Guarantee Program will be discontinued at the end of this year. Starting on January 1st of next year, Citibank will no longer offer this program, but don't worry; this doesn't mean that they are getting rid of its FDIC insurance, only that there will be some changes to the amount of insurance provided.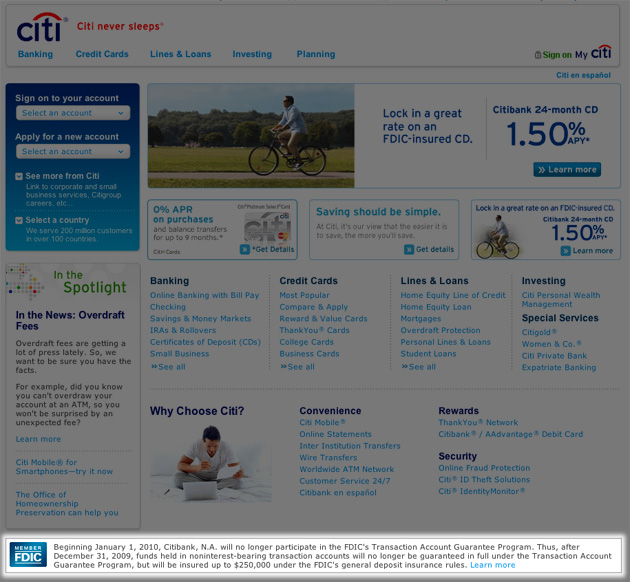 The Transaction Accounts Guarantee Program
The program that Citibank has decided to discontinue is the Transaction Accounts Guarantee (TAG) Program, which is specifically designed to insure your non interest-bearing transaction account to the full amount in the account. For Citibank consumers, this program covers:
Citibank Everything Counts® Account
For business customers, the program covers all CitiBusiness interest checking accounts, including:
Accounts held by sole proprietors
Not-for-profit corporations
Interest on Lawyers' Trust Accounts (IOLTA)
Interest on Trust Accounts (IOTA)
Interest on Lawyer Accounts (IOLA).
Money held in these accounts will remain insured up to the full amount until December 31st, 2009. After that, they will still be insured, but only to the standard $250,000 limit.
Interest Checking Accounts
Citibank interest-bearing checking accounts are classified as Negotiable Order of Withdrawal (NOW) accounts, and will accrue interest until December 31st of 2009. These guidelines qualify Citibank Interest Checking Accounts for coverage under the TAG Program, also until the end of this year. These accounts will remain insured to the current standard FDIC limit of $250,000 per depositor until January 1st, 2014, when the insured amount will return to its previous level of $100,000.
Banks that wished to opt-out of the program had to do so by November 2nd of this year. The FDIC extended the program for an additional 6 months for banks who wanted continued full-coverage for their non interest-bearing accounts, through June 30th, 2010. Many banks have decided to discontinue the program due to an increase in the fee required to remain enrolled.
For more information, visit the Citibank website, or the FDIC TAG Program page.
Ask a Question