Wells Fargo Press Release Gives Consumers Tips on How To Avoid Banking Fraud This Holiday Season
Unfortunately, there are still some Scrooges out there. With the huge surge in shopping that comes with the holiday season, there is also a surge in the number of people who try to take advantage of the increased economic activity by engaging in banking fraud. Wells Fargo, in the holiday spirit, has decided to give its consumers some tips on how to make sure that they keep their information safe and avoid the hassle of becoming a victim of fraud or identity theft this year.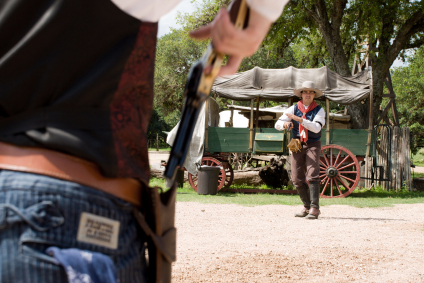 Store Shopping
For those of you actually going out there to brave the crowds and find the deals at retail outlets, Wells Fargo advises you to reduce your risk by going paperless. There are still some identity thieves who steal information the old fashioned way; by going through your mail or trash for bank statements. Switch to online statements to gain some increased security.
Another way to keep potential thieves at bay is to register for online banking and email alerts in order to keep track of your transactions. If someone does get their hands on your account information somehow, you want to be the first to know and be able to take action as quickly as possible.
Online Shopping
For the Cyber Monday-type shoppers who will wait and do their holiday shopping from the safety of their own homes, Wells Fargo has a couple ways that you can be sure your online shopping is as secure as possible. First, make sure that your computer has some sort of virus protection software, and be on the lookout for phishing scams that ask you to click on links within email. If you aren't completely sure who the email is from or it seems at all suspicious, don't open it or any of it's attachments, as it could contain a virus.
Also, be careful when websites ask for sensitive information like account numbers, social security numbers or even birth dates. Before entering or sending any information online, check to see that the website address starts with "https://…" to ensure your information is being sent along a secure connection.
A more basic way to protect yourself is to use your common sense, and realize that if an offer is too good to be true, it most liekyl is. If someone is offering you a lot of money for doing very little, chances are there is a catch.
General Practice to Avoid Fraud
Wells Fargo also offers some more general advice on good year-round practices to try and protect yourself against bank fraud and identity theft. These are:
Check your list twice: Review your account activity regularly with mobile banking, especially during big shopping trips, or check your purchase activity online when get home. Sign up to receive alerts when your debit or credit card usage goes over a certain threshold.
Be aware of your surroundings: Always cover the pin pad when you enter your pin number, and do not repeat sensitive financial information in crowded shopping centers where it could be overheard.
Ensure you're protected in case of loss or theft: Wells Fargo guarantees 100% of the funds in a Wells Fargo account in the event that you are a victim of online banking fraud. However, customers are responsible for protecting their password and account information and for providing prompt notification of an unauthorized transactions. Visit their secure website for information on how the guarantee works.
Ensure your cards are covered: Wells Fargo cardholders are also protected by the built-in WellsProtect® program, which ensures that if a customer promptly reports an instance where the card is used without their permission, the consumer has zero liability.
Know your credit report: Review your credit report at least once a year, keeping an eye out for suspicious or unauthorized transactions. You can get a free credit report once a year from each of the three major credit bureaus.
Reporting Fraud
Wells Fargo hopes that it can prevent you from ever having to report fraud, but if you do become a victim, it provides a comprehensive website that gives you an avenue to report the crime, and also provides additional useful information on fraud.
Ask a Question