Cambridge Savings Bank Celebrates Its 175th Anniversary with $175,000 Giveaway
Cambridge Savings Bank has found a great way to get the word out about its 175th anniversary, while at the same time contributing to local community housing non-profit organizations. The bank is giving anyone who visit their site a chance to vote on the non-profit that they want to see receive funding from the bank.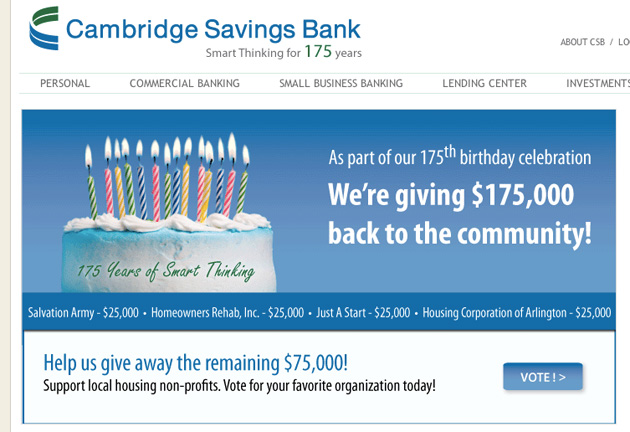 The Non-Profits
Cambridge Savings Bank has already guaranteed $25,000 each to the Salvation Army, Homeowner's Rehab, Inc., Just-A-Start and the Housing Corporation of Arlington. However, if you visit the bank's website, you can vote on the organization of your choice, including:
CHAF (Cambridge Housing Assistance Fund)
Concord Housing Foundation
Homeowner's Option for Massachusetts Elders
Lexington Housing Partnership Foundation
National Center for Family Homelessness
Watertown Community Housing
The organization with the most votes will receive $20,000 to help with program funding. The next two runner's up will receive $10,000, and every entrant will receive $5,000, for a total of $175,000.
Where Do I Come In?
In addition to being able to point these funds in the direction of a non-profit that you think deserves it, after you complete the survey you will also be entered to win a $1,000 Harvard Square Gift Package, just for entering your name, address and phone number in the fields provided. Who says it doesn't pay to help out?
The great part about this is that it is not widely advertised that there is the drawing at the end of the survey, so only people who actually fill out the survey can be entered. Its a great little added bonus for those who take the time to help Cambridge Savings Bank direct some of their money towards a non-profit that the community really thinks deserves it.
For more information, visit the Cambridge Savings Bank website here. Details on the $1,000 Gift Package are provided after the survey, and the bank says that it will post the results of the survey and the bonus offer in January.
Ask a Question