Fed Chairman Ben Bernanke Tops List of World's "Top Global Thinkers"
Federal Reserve Chairman Ben Bernanke may be in for some tough grilling when he faces the Senate Banking Committee this Thursday, but for some, he is one of the world's most brilliant minds. In fact, for the people behind Foreign Policy Magazine, he is no less than the Top Global Thinker in the periodical's first annual list of 100 thinkers from whom emerged "the big ideas that shaped our world in 2009."
Top Minds on the List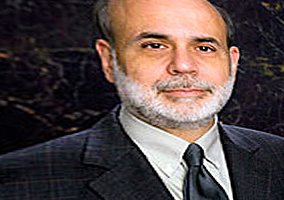 Ben Bernanke
Ben Bernanke heads the list of Foreign Policy's Top Global 100 Thinkers, a roster largely dominated by Americans. Foreign Policy credits him "for staving off a new Great Depression."
Of Bernanke the magazine said, "The Zen-like chairman of the US Federal Reserve might not have topped the list solely for turning his superb academic career into a blueprint for action, for single-handedly reinventing the role of a central bank, or for preventing the collapse of the US economy. But to have done all of these within the span of a few months is certainly one of the greatest intellectual feats of recent years."
Barack Obama
The country's first African-American and 44th president Barack Obama is right behind Bernanke for "re-imagining America's role in the world." According to the magazine, "He is also a president with big ideas, particularly in his foreign policy."
The rest of the list includes other American leaders including former President Bill Clinton and Secretary of State Hillary Clinton who share 6th place, former Vice President Dick Cheney at 13th place, and chief White House Economic adviser Larry Summers who ranks 14th.
Bernanke and the Economic Crisis
Under Bernanke's leadership, the Federal Reserve has been key in bringing the finance industry out of the throes of depression in what has been seen as the worst recession since the 1930's. The Fed has since slashed benchmark interest rates down to near zero and injected more than $1 trillion into the financial system, a move that has remained contentious among lawmakers.
Many legislators find fault with the Fed for what they see as lack of supervision on banks, and for taking part in the unpopular taxpayer-funded bailouts of financial institutions including Citigroup Inc. and the American International Group (AIG), at a time when millions of Americans are suffering from unemployment.
Fresh 4-year Term as Fed Chief
Despite the outrage expressed by some lawmakers over the decisions of the central bank, Bernanke is said to have the support of majority of senators in the Senate Banking Committee, which must approve his nomination before the full Senate can vote on it. Bernanke's current term expires on January 31, 2010.
Ask a Question