Senator Jim Bunning Gives Harsh Criticism of Ben Bernanke in Confirmation Hearing
The confirmation hearing for Fed Chair Ben Bernanke is underway, and he has been receiving some harsh criticism from lawmakers over his treatment of the financial crisis. Perhaps most scathing was the lengthy speech by Senator Jim Bunning (R-Ken.) who remains vehemently opposed to reinstating Bernanke for another term with the Fed.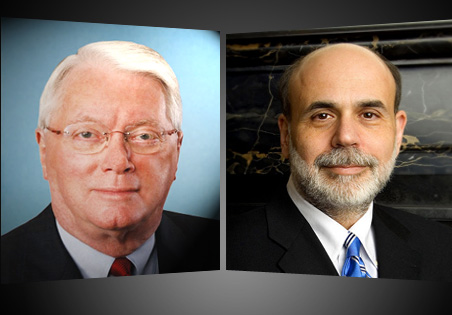 Senator Jim Bunning
Senator Bunning has been a long time critic of Bernanke's handling of the Fed, and this has not been the first time that we have heard him voice his concerns over the actions of the central bank. In his speech today, he pointed out that he was the only senator to vote against Bernanke at his last confirmation hearing 4 years ago, and from his words today it is obvious his opinions have not changed.
"In fact, I was the only senator to even raise serious concerns about you," Bunning said before starting his long list of grievances. "I opposed you because I knew you would continue the legacy of Alan Greenspan, and I was right. But I did not know how right I would be and could not begin to imagine how wrong you would be in the following four years." Bunning will not be up for reelection next year, and so this hearing could be one of his last chances to voise his concerns about the Fed.
Concerns Over Fed's Handling of the Crisis
Bunning's unabashedly harsh remarks provided some great sound bites for the media, including one point where he looked at Bernanke and stated that the Fed Chair was "In short…the definition of a moral hazard." However, it wasn't all just personal attacks. Senator Bunning did raise a (very) long list of concerns over the Feds actions over the last few years, including easy money earlier in the decade, "illegal" purchases of mortgage-backed securities, a lack of consumer protection, not enough sub-prime mortgage regulation, failing to spot the housing bubble, and negligent bank regulation, to name a few. These and other concerns are shared by many lawmakers, and Bunning is not expected to be alone in his vote against Bernanke this term.
Other Senators, while expressing similar concerns, vocalized support of Bernanke, including Senator Dodd, who while he said he supports Bernanke, is still proposing that a new central regulatory agency be set up that would take some powers away from the Fed, allowing the central bank to focus on other issues while leaving bank supervision and consumer protection up to another agency dedicated to these issues.
NOTE: The hearing is currently on break for lunch and will reconvene at 1 PM. It will most likely be a lengthy process, so we will continue to update on the hearing throughout the day.
Ask a Question