EA Sports Announces First Visa Rewards Prepaid Debit Card for Loyal Gamers
EA Sports Madden NFL '10 has just been nominated for best team game of 2009 by Spike TV's Video Game Awards, and with both real and virtual football season well underway, software giant Electronic Arts has decided that it will join up for Visa to give its loyal fans some cash-back rewards for their purchases of EA Sports game titles with their first ever EA Sports branded prepaid debit card.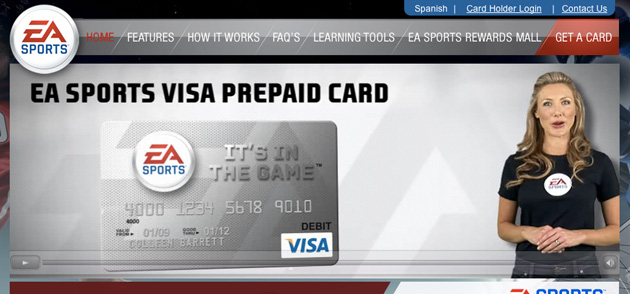 The EA Sports DebitSmart Visa Prepaid Card
This new offer will allow sports gamers to earn points that can be used to purchase their favorite EA Sports game titles with a re-loadable, prepaid debit card from Visa. Users can add value to the card from payroll direct deposit, a checking account, other cards, or at one of thousands of GreenDot or Western Union retailers nationwide, such as WalMart, CVS, Walgreens, Rite Aid, 7-Eleven, and Radio Shack. The card is accepted at millions of locations worldwide, wherever Visa prepaid cards are accepted, and can even be used at ATMs. Everyday spending on the card works towards earning you points that can then be redeemed to purchase EA Sports games.
The prepaid card has a lot of advantages over a traditional credit or debit card. First, there is no credit check required to receive your card, so if you have bad credit or have had trouble getting a checking account, you will still be able to receive a EA Sports DebitSmart Card. However, all funds deposited in your DebitSmart account are FDIC insured and protected by Visa's Zero Liability fraud coverage, so you are assured that your money is secure. Visa prepaid debit cards can also be used to transfer funds to other cardholders, eliminating costly money transfer or wire transfer fees. The card does have a $1.99 monthly fee, and a $1 ATM transaction fee.
Earn Rewards
By using your EA Sports DebitSmart Card, you are eligible to receive "EA Sports Rewards Points" at over 26,000 retail locations and 700 online retailers including iTunes and NetFlix. When you use your card to make a purchase at one of these location, you will receive a percentage back as well as points that you can redeem to purchase EA Sports game titles. Cardholders can redeem "Game Cash" at the EA Sports Rewards website. The website does not say how quickly you can accumulate points, but with only 6,500 points will get you an Xbox 360 or Playstation 3 game, and with 5,500 points you can get a Nintendo Wii game.
If you are a hardcore gamer, you most likely already know the EA Sports name, which has 5 titles nominated in Best Game categories this year. So if you plan on continuing to buy EA Sports game titles, getting this card that gives you cash back and rewards on these purchases might be a good choice. For more information or to browse the available games, visit the EA Sports website here.
Ask a Question