No Relief Seen In the Slide of CD Rate Averages This Week
Significant developments hit the banking industry this week. First, Bank of America® revealed plans of repaying the $45 billion aid it got from the government under TARP, after months of being subjected to government oversight, particularly on executive pay limits. Being able to repay government borrowings is also crucial for the bank at this time as it continues to search for a new CEO to replace Ken Lewis.
Secondly, Fed Chairman Ben Bernanke faced the Senate Banking Committee Thursday, defending the moves made by the Federal Reserve at the peak of the financial crisis. Some senators were quite harsh in their criticism of the Fed, citing lax regulatory supervision that somehow brought on the housing crisis, and then bailing out Wall Street. Bernanke's appearance before the Committee was in connection with his bid for a fresh four-year stint as Fed Chairman when his current term expires January 31, 2010.
For many of the country's savers, it's no secret that the Fed has been keeping interest rates extremely low in efforts to further stabilize the financial industry, and to boost consumer lending. So how did CD rate averages "react" to these significant news? Did banks raise their rates with the possibility, however remote, that the Fed may not be under Bernanke's leadership come the New Year?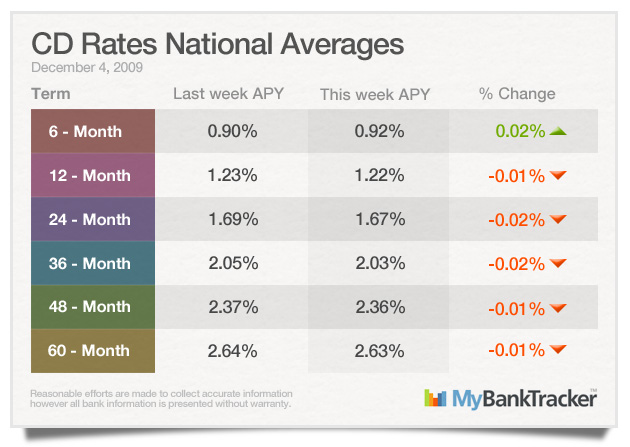 6-month CDs
Short-term CD rates, specifically 6-month CDs, showed some improvement this week as the average yields ticked upwards by two basis points, moving up from 0.90% to 0.92%.
12-, 24-, 36-, 48- and 60-month CDs
Unfortunately though, for the CD terms that we have been regularly tracking, only the 6-month CD rate average has been on a positive trend as the rest of the CDs have slipped further down from last week's levels. The 1-year, 4-year, and 5-year CD averages moved down by a single basis point each, while for the 2-year and 3-year terms, the rate average cut is slightly bigger at two basis points each.
Bank Rate Hikes and Cuts
As evidenced by the CD rate averages, rate hikes for the past few days have been few and far between. Among those which have raised CD rates, even if the rate hikes are minimal (between 0.01% to 0.15%), are Discover Bank and Westfield Bank, Fsb.
On the other hand, CD rate cuts have been made by many banks, pulling down average rates for all but one CD term. What's worse is that, even some of the banks offering the best CD rates have lowered rates as well. These banks include Hudson City Savings Bank, UmbrellaBank.com, and Intervest National Bank.
For an updated list of the best CD rates in your area, check out our comprehensive database of CD rates available.
Ask a Question