TARP Bailout May Cost $200 Billion Less For Taxpayers
The estimated $700 billion of Troubled Asset Relief Program (TARP) funds that the Obama administration had earmarked for use in bailing out major U.S. banks may not be needed to its full extent. The U.S. Treasury has stated that new assessments of the amount of government aid required is estimated to end up costing taxpayers at least $200 billion less than previously anticipated. This surely will be a slight relief to discontent protesters who were angered by Congress' use of taxpayers' money.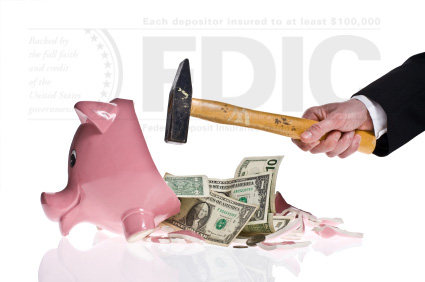 Banks In A Hurry To Repay TARP Funds
With the economy possibly in recovery mode, banks are anxious to repay their TARP funds in hopes of relinquishing themselves from government restrictions that came along with the bailout money. Just last week, Bank of America® announced it will soon be able to pay back the $45 billion it received in TARP funds, while claiming that they had $19 billion ready for repayment the day following the announcement. Citibank has expressed interest in repaying its TARP funds, but as of yet has not received clearance to do so by the government.
Indicative Of Economic Growth?
During an interview with Bloomberg, Treasury Secretary Timothy Geithner said that he expects banks to repay up to $175 billion of TARP funds by the end of 2010. Some major financial institutions such as JPMorgan Chase, Morgan Stanley, and Goldman Sachs Bank USA have already repaid their TARP money. With Bank of America® soon the join that group, the financial sector may be climbing out of the hole that was created by the credit and housing crisis.
The fog may not have completely cleared, as Citigroup has $45 billion and Wells Fargo has $25 billion to repay in TARP funds – two major banks that seem to have had difficulties in raising the necessary capital required to pay back the U.S. government.
Ask a Question