Bernanke's Speech Shows Fed is Still Cautious On The Economy
Federal Reserve Chairman Ben Bernanke's speech to the Economic Club of Washington revealed his concerns over a possibly slow rate of economic recovery. He expects 'formidable headwinds,' which will include the high unemployment rate, hard-to-get credit, and cautious consumer spending.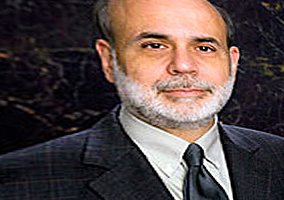 The Fed chief predicts that "we will continue to see modest economic growth next year," which will increase the rate that the job market improves – "but at a pace slower than we would like". Currently, the U.S. unemployment rate is 10% but that number is predicted to decline in the second half of next year as the economy stabilizes.
The ubiquitous concern of the future of the economy has been the effect of inflation. The Federal Reserve has used super-low rates to suppress deflationary threats that, in turn, helped keep the U.S. markets from collapsing. Bernanke expects a slow economy recovery and will remain adamant on keeping the rates at record lows for an "extended period of time". The Fed believes such a strategy would persuade businesses and consumers to spend, which would support the economy's recovery.
He noted that together with rate cuts, the Federal Reserve has worked with different agencies (such as the FDIC) to ensure the stabilization of financial markets. Easing monetary policy was used to ensure that consumers could be able to attain credit because many businesses saw a major rise in inventories after last year. He noted that there have been some declines this year in those inventories, particularly in housing and the auto industry. This has led to an increase in production but we still need to see better improvements for sustainable growth.
Keeping Inflation Low
Bernanke said the Fed certainly has intentions to raise rates and reinforce monetary policy when deemed necessary – when it would best compliment the healing economy. He stated that the Federal Reserve's actions to combat the crisis would not lead to inflation and he made a clear point to state that they have "been giving careful thought to our exit strategy." Another good takeaway point from his speech was that the Federal Reserve's lending facilities are being used less, which is adjusting their balance sheet as a result, decreasing the inflation risk by lending less money.
Ben Bernanke said that he was confident that the Federal Reserve had both the tools and commitment to "foster employment and price stability". Many economists predict that the second half of next year may well be the time that this exit strategy will have to come into being. He also said "in the meantime, financial firms must do a better job of managing the risks of their business". With financial markets making some improvements since the beginning of the collapse last year and the economy making progress in the second half of this year, we can hope that financial institutions will continue to follow his advice.
Ask a Question