TD Bank and Visa Team Up to Bring You Holiday Savings
Paying for gifts with your TD Bank Visa Debit Card this holiday season can save you time and money with the 'Tis the Season to Go Save With Visa promotion. Cardholders can shop for anyone on their list at hundreds of great stores with deals and offers, and even free shipping.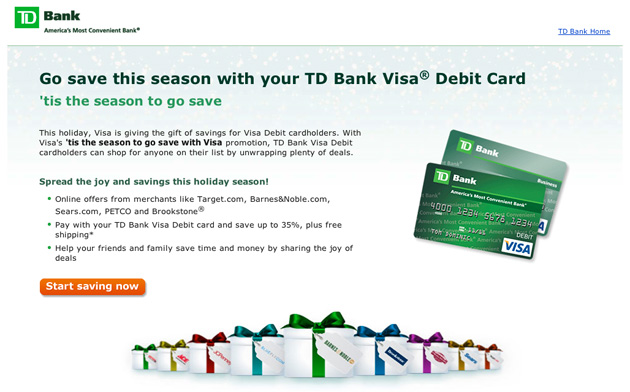 The Go Visa Promotion
In order to start saving big on your holiday shopping, all you have to do is visit https://go.visa.com to view a carousel of deals from almost 30 major retailers. Just click on the box of the store you want to shop, and out pops a great deal. You can also filter your search and shop according to the store, gift type, or even the family member you are shopping for.
There is also a great holiday ad libs quiz that you can take that fills out a wishlist letter that you can share through email or social networking sites, so you can let others know what you want and find out what they really want too.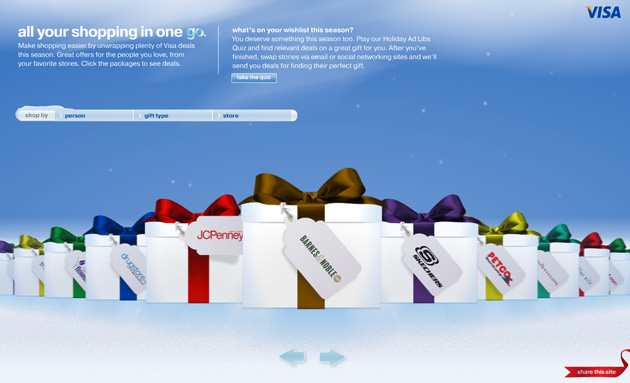 More Savings with Your TD Debit Card
When you use your TD Bank Debit Card, you can save up to 35% and also receive free shipping. This offer may vary by merchant. For more information, you can view the TD bank promotional site here.
Ask a Question