With Sluggish Economic Recovery Predicted, CD Rates Continue to Fall
According to a report by UCLA group Anderson Forecast released last Wednesday, the US will continue to see low interest rates and high unemployment as the economy recovers modestly in 2010. The report also states that even with GDP reflecting a current growth of 2.8 percent, it may be more realistic to expect it to settle down to a 2 percent growth by 2010 and inch closer to 3 percent in 2011.
"With such sluggish growth, the unemployment rate will likely peak at 10.5 percent in the first quarter and remain at or above 10 percent for almost all of next year," the forecasting unit reveals in the report.
Consistent Economic Predictions
The above analysis echoes Fed Chairman Ben Bernanke's comments last Monday about the economy remaining weak and the jobless rate staying at or above double-digit figures. These economic predictions essentially extinguish any hope that savers may have on interest rates rising anytime soon. With the Fed keeping benchmark rates within the 0 to 0.25 percent range to spur lending to consumers, CD rates have also been maintained at record lows, giving bank depositors few options of growing their funds.
With these considerations in mind, let's see how low CD rate averages have gone down this week. The 6-month CDs may have had a reprieve from rate cuts last week, but this week, all rate averages fell – and how.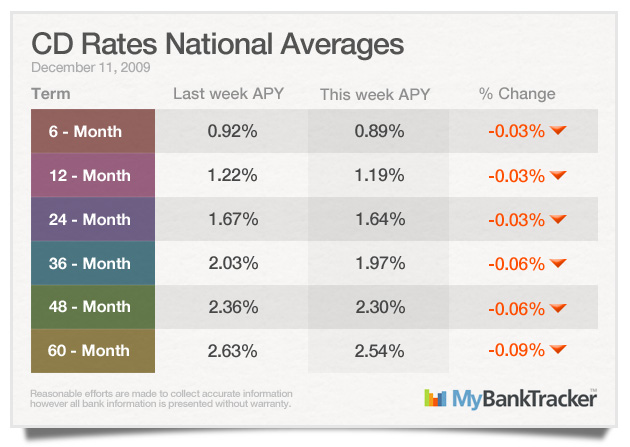 6-month, 12-month and 24-month CDs
CD rate averages for 6-, 12-, and 24-month CDs all took cuts this week, albeit smaller ones than the long term CDs. Going down by 3 basis points each, the 6-month, one-year, and two-year CD averages went from 0.92% to 0.89%, 1.22% to 1.19%, and 1.67% to 1.64%, respectively.
36-month, 48-month, and 60-month CDs
Long term CDs took quite a beating this week, suffering the most severe rate cuts we've seen for weeks now, a sign that banks are hesitant to give consumers higher yields in these uncertain times, despite the lengthy lock-in period. Three-year and four-year rates were reduced by 6 basis points each, falling to 1.97% and 2.30% respectively. The five-year CD average fell the most from last week's 2.63% to 2.54% this week.
Bank Rate Hikes and Cuts
Judging from the continued slide of CD rate averages, quite a number of banks made deep cuts in their CD rate offerings. Citizens Bank, OneWest Bank Fsb, Flagstar Direct, and Valley National Bank are among those that made the biggest CD yield reductions.
If you're a customer of Astoria Federal and Midcoast Community Bank however, you'll be glad to know that these banks raised their rates. And on a more positive note, just today, ING Direct also upped its 12-month CD rate to 2.00%, the highest rate for this term.
For an updated list of the best CD rates in your area, check our comprehensive database of CD rates available.
Sources: Xinhuanet, ABC News
Ask a Question