Best CD Rates Remain Constant as Bank Executives Gear Up for December 14th Meeting with Obama
President Barack Obama is set to convene with the top executives of the country's largest banks Monday to ask them to support the government's efforts to tighten the financial industry.
In an interview with CBS' "60 Minutes" aired last Sunday the president said, "I did not run for office to be helping out a bunch of fat cat bankers on Wall Street."
Among other issues, such comments made by President Obama promises that the hour long meeting may be highly charged even as the heads of financial firms are expected to have their say against many of the administration's proposals, and specifically one that creates a consumer protection agency. The legislation for this passed the House of Representatives just a few days ago.
So did the creation of a Consumer Financial Protection Agency push banks to raise or lower CD rates? We'll check the top of the list this week: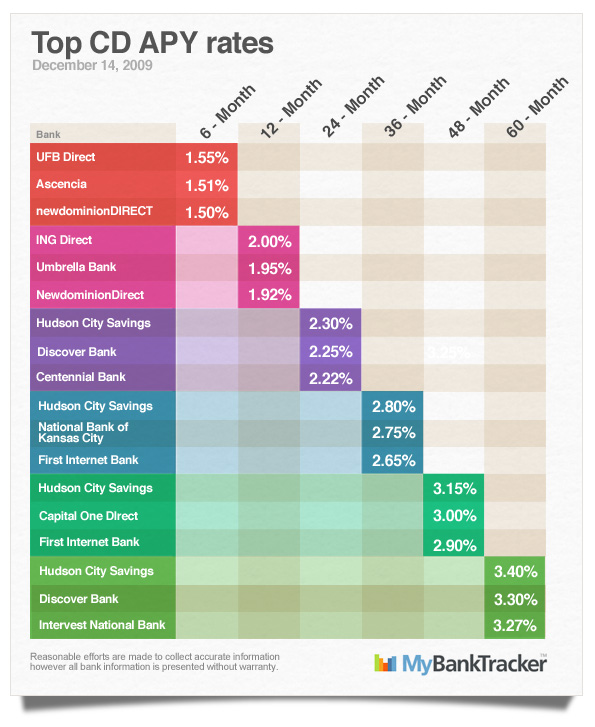 6-month CDs
Just as quickly as Midcoast Community Bank entered the roster of best CD rates, its unheard-of (at least these days) 1.75% for 6-month is now gone. UFB Direct now gets the top spot at 1.55%, followed by Ascencia and newdominionDIRECT at 1.51% and 1.50%.
12-month CDs
As mentioned in last Friday's CD averages post, ING Direct upped its one-year rate to 2.00% replacing UmbrellaBank.com and UFB Direct which offered this rate last week. The next highest rates for 12-month CDs are given by UmbrellaBank.com (1.95%) and newdominionDIRECT (1.92%).
24-month CDs
American Express Bank is another bank from last week's best CD rates list that dropped its yield as fast as raising it. With that, Hudson City Savings Bank once again dominates the 2-year CD rates at 2.30%, with Discover Bank and Centennial Bank close behind at 2.25% and 2.22%.
36-month CDs
The highest 3-year CD rates for this week remain unchanged from last week's list with Hudson City Savings Bank, National Bank of Kansas City, and First Internet Bank leading the pack offering 2.80%, 2.75% and 2.65% respectively.
48-month CDs
Four-year CD rates were also maintained for this week and Hudson City Savings Bank is top at 3.15%. Capital One Direct Banking is next with a rate of 3.00%, while National Bank of Kansas City and First Internet Bank both offer 2.90%, the third highest 48-month CD rate.
60-months CDs
Long-term CD rates seem to on a status quo trend as 5-year CD rates also remain the same as last week's. Hudson City Savings bank offers the highest at 3.40%, with Discover Bank and First Internet Bank giving 3.30%, and finally, Intervest National Bank with 3.27%.
For an updated list of the best CD rates in your area, check our comprehensive database of CD rates available.
Ask a Question