SunTrust Bank Promotes Saving with "Swap a Solid" Application for Facebook
To some it may seem counter-intuitive for a bank to launch an app that encourages user to not use money, but that is exactly what the "Swap a Solid" Facebook app from SunTrust Bank aims to do."Live Solid"
The "Swap a Solid" application, which encourages user to reduce spending money by providing an forum where user can find others willing to exchange goods and services, is the latest offering in SunTrust Bank's "Live Solid" campaign launched in September. The campaign was launched in response to what senior vice-president Allison Bennett calls a "shift in priorities" towards thrifty spending in response to the financial crisis.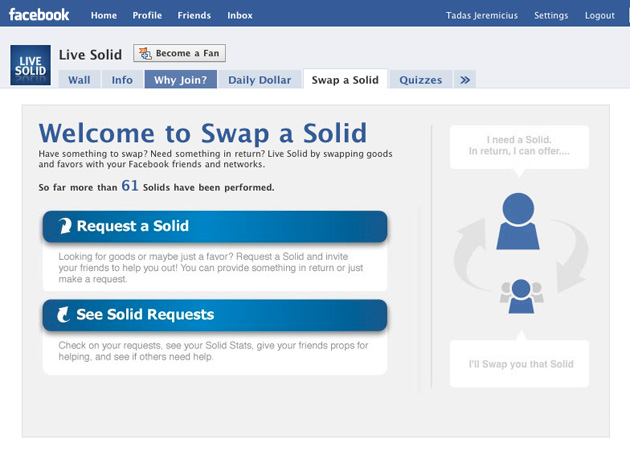 The forum allows users to search for and post requests for certain items, as well as something that they are willing to trade in exchange for it. They can then send the request to their friends, who will receive a message that they can respond to if they are interested in making the trade.
Decrease in Spending
This is a laudable effort by a bank to identify with the needs of its consumers, though those who support Keynesian spending for the stimulation of the economy will most likely cringe at any effort to curb consumer spending. Currently the "Live Solid" campaign has over 3,000 followers on Facebook, and the bank is planning on launching a similar campaign on Twitter.
To join the campaign or learn more, visit the "Live Solid" website at www.facebook.com/LiveSolid
Ask a Question