Federal Reserve Chairman Ben Bernanke Wins Time Magazine's "Person Of The Year"
In a time when the general public are outraged at the economic turmoil and need some help from the government officials, Federal Reserve Chairman Ben Bernanke has won the Time Magazine "Person of the Year" award.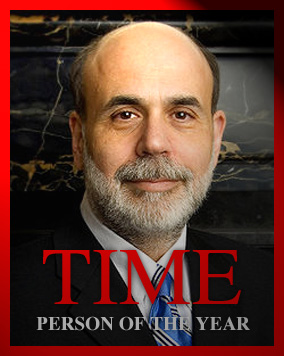 This selection was obviously influenced by three main factors; in 2009 the economy was the biggest news to everyone, Ben Bernanke has a very important job in ensuring that the economy is stabilized, and he has been a bit of a controversial figure in the last few months. This controversy has increased as he is selected for another term as the Fed Chair, despite criticism from lawmakers concerning the actions he has taken so far in the financial crisis.
According to Time magazine's managing editor Richard Stengel, he has been happy over the years to make decisions intended to stir up controversy. He stated that even if it made people angry, he has just been doing his job. According to a poll conducted by Research 2000, 47 percent of the people surveyed said that Ben Bernanke cares more about Wall Street, with 20 percent saying he cares more about 'Main Street'. Bernanke follows President Obama who was selected as the "Person of the Year" in 2008.
Whether you think he is the "Person of the Year" for good reasons or not, he is still in charge of getting the economy out of the problems it is in. Let's hope that's exactly what he does during his term.
Ask a Question