mFoundry Wins Top Innovator in Bank Technology News' Top Ten Companies and Technologies of 2009
Bank Technology News (BTN) has published its list of the Top Ten Companies and Technologies of 2009, which list this years innovators in banking technology. At the top of the list is mFoundry, a California-based company that created the platform for the Starbucks Card Mobile.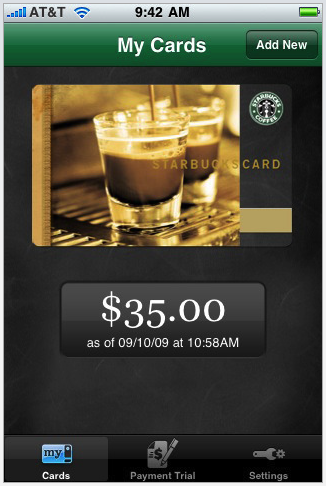 The Starbucks Card Mobile, introduced in September, allows Starbucks cardholders to use a bar code display on their iPhone screen to effectively "swipe" your iPhone and make point of sale payments. You can also reload value and check you balance with the app.
This technology represented the first use of a mobile gift card for this type of transaction, and deserves the number 1 spot on the BTN list because of the potential that this technology could hold for the banking industry. Since the development of the Starbucks app, Square and VeriFone have both come out with credit card ready iPhone solutions.
Other Top Innovators
Some other companies that made the BTN list were PNC Bank and Bank of America®, who were applauded for their Virtual Wallet and Fundtech Global PAYplus-Services Platform, respectively. The Virtual Wallet is a comprehensive online banking platform developed by PNC, allowing online baning consumers to preform a variety of functions with a sleek, updated interface. The bank is credited on the BTN site with "changing the language" of online banking so that it moves away from tradtional banking and towards unsing more common online terminology like "wish list" instead of financail goals.
Fundtech Global PAYplus Services are Bank of America®s attempt utilizing the technological offerings like online tracking and signatures used by parcel delivery services like FedEx, and bringing it to the payment services industry. Using Fundtech, they were able to make routing and pricing data available to the user, making the process more streamlined and transparent.
For a complete list of the winners, visit the BTN website here.
Ask a Question