Blippy Adds a New Twist to Social Networking
If you think you've seen everything there is to see in online social networking, think again. An attention-grabbing post at TechCrunch last Friday introduced us to the latest newcomer to the social media scene: Blippy. It has the makings of becoming another hit social network and micro-blogging service but only if netizens will take to its unique approach to online sharing of information.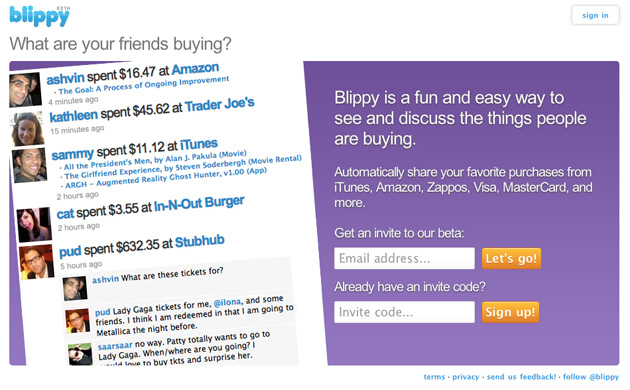 "What are your friends buying?"
At first glance, you'd think it's just another Twitter or Facebook wannabe. Well it is – but with a twist. Blippy is a service that lets you automatically share your credit card transactions online, for your friends to see, comment on, or "Like". The information displayed on your page will include the place or retailer you bought the item from and the amount you spent. For some stores like iTunes, Amazon, and Zappos, the amount will even be broken down to the actual items purchased.
If Twitter asks you "What's happening?" (previously "What are you doing?"), and Facebook lets you express "What's on your mind?" on your Wall, Blippy answers the question "What are you friends buying?". Even knowing what was spent where will already give you a clue as to whether your pal spent for a cup of coffee at Starbucks, or bought the latest Kindle at Amazon.com.
According to Blippy co-founder Philip Kaplan, "Blippy provides transparency into normal everyday things."
Mixed Reactions
Is it a controversial idea? Sure it is. But some people do find the idea of being able to create an image of themselves based on the purchases they make interesting and a bit of a challenge. And with Blippy allowing you to enroll only one credit card to the network, meaning only transactions in one card will be published online, it is in fact, quite easy to show a side of yourself that you want your friends to see.
The reactions so far greatly vary. Twitter trackbacks run the gamut of those who find the Blippy concept "very, very interesting" and "awesome", to those who think that the idea "makes absolutely zero sense" and even think that it's "the most pathetic Web 2.0 ever."
A Goldmine of Information
One potentially useful aspect of Blippy for retailers, businesses and the credit card industry is that the social network can actually become a relevant source of information when it comes to consumers' buying habits. And there are so many variables which can be factored in: age, sex, profession, and location, among others. It's a veritable data mine that companies can use for more effective marketing strategies. These businesses don't even have to spend a single cent to conduct their own consumer surveys.
Blippy has recently launched in private beta testing. To get an invite and get started, visit the Blippy website.
Sources: Washington Post, BigThink, Topsy
Ask a Question