CD Rate Averages Show Small Declines This Week Despite Fed Announcement
It was a big week for the Federal Reserve and in particular, Chairman Ben Bernanke. First, he was chosen as Time Magazine's Person of the Year. Then a few days after, the Senate Banking Committee confirmed his nomination for another term as Fed Chair, sending his possible reappointment up for a vote by the full Senate.
Bernanke Lauded Despite Controversy
It's a given fact that some of the most powerful yet controversial decisions to come out of this economic recession were made by the Fed under Bernanke's leadership. And while many may not be in agreement with how some circumstances, including bank bailouts and drastic interest rate drops, have been handled, apparently one doesn't have to please everyone to be named Person of the Year or be given the chance for an extended tenure for such an influential post.
What's really disappointing even if not totally unexpected however, is the announcement to come from the Fed Committee of its resolution to keep benchmark rates at the current lows that they are in now – zero to quarter of a percent – for an "extended period."
But even with yet another confirmation that low rates are here to stay, there were some improvements seen in this week's CD rate averages.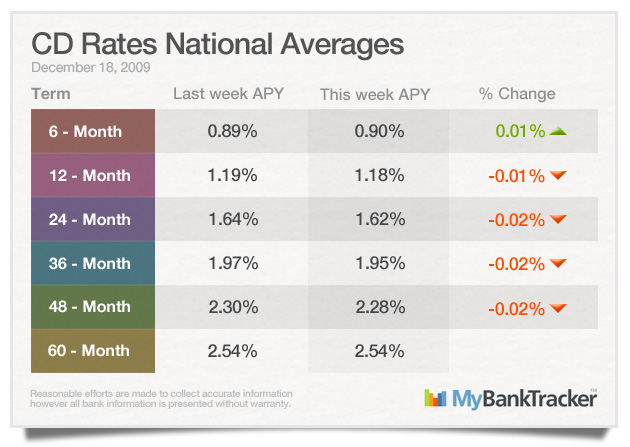 6-month CDs
The CD rate average for the 6-month term performed better than it has for some time now. The increase was only by 0.01%, from 0.89% to 0.90%, but good enough given the fact that it is the only CD average that was able to go up a notch, while the rest continued to falter.
12-, 24-, 36-, and 48-month CDs
While CD rate averages for the 1-year, 2-year, 3-year, and 4-year terms went down as usual, the positive side of it is that the cuts were not as deep as the previous weeks'. The 12-month rate was pulled down by 1 basis point, while 24-month, 36-month, and 48-month CDs fell by 2 basis points each.
60-month CDs
With long-term CDs becoming more unpredictable considering the current state of the economy, not a lot of banks made changes and the five-year CD yield average was maintained at 2.54%.
Bank Rate Hikes and Cuts
The improved performance of CD rate averages this yield may be attributed to a handful of banks which raised their CD yields this week. These banks include Stonebridge Bank, Ever Bank, and Onewest Bank, Fsb
On the other hand, the institutions that made the steepest rate cuts are Flagstar Direct, American Express Bank, First Internet Bank, and E-Loan.
To check out if perhaps your bank has raised or lowered its CD rates, visit our comprehensive database of CD rates available.
Ask a Question