Consumers Set Record-Breaking Week in Online Shopping, Holiday Spending Up 4%
Despite indicators and experts' forecasts of the economy recovering at a sluggish pace, for many consumers, the slight improvement in circumstances is enough to merit a more festive holiday celebration this year.
Record-Breaking Sales
Proof that consumers have slightly opened their wallets after much scrimping and saving throughout the year is found in the data presented by comScore, Inc., a leading marketing research company focusing mainly on online commerce. The research company has earlier predicted a 3% increase from last year's sales.
According to the comScore report, for the first 43 days of the November to December shopping season, retail e-commerce spending for the 2009 holidays grew by 4%. Actual sales jumped to close to $21 billion in comparison to a little over $20 billion for the past year in the same period.
Holiday online sales for the week Dec. 7 to Dec. 13 even set an unprecedented spending record amounting to $4.74 billion. This surpasses the previous high of $4.70 billion e-commerce spending reached two years ago for the week ending December 16, 2007.
Full Data
Here are the figures released by comScore, Inc: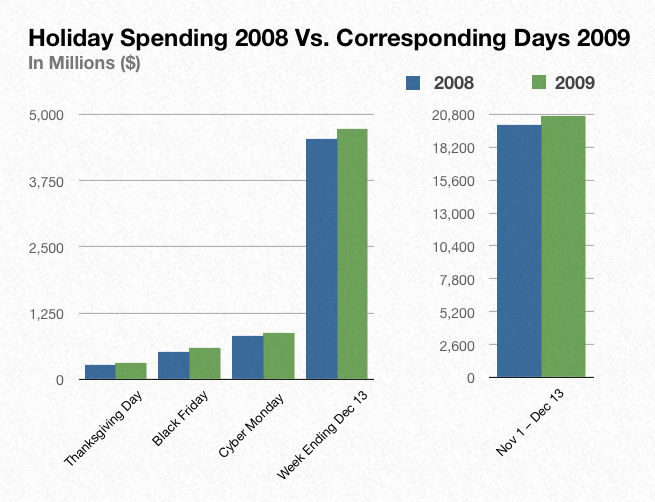 Non-Travel (Retail) Spending. Excludes Auctions and Large Corporate Purchases. Total U.S. – Home/Work/University Locations
The research firm says the strong surge in sales may have been brought about largely by the heavy promotions of online retailers.
Anticipated Green Monday Results
The trend is expected to continue as the results for Green Monday become available next week. What is actually known as Green Monday is the second Monday in December, which eBay and PayPal referred to in 2007 as the heaviest online spending day of the year. This belies the common misconception that Cyber Monday (or the Monday immediately following Black Friday) is the busiest online shopping day every year. Instead, it merely signifies the start of the online holiday shopping season, and spending gradually surges, reaching the peak by mid-December. For this year, Green Monday fell on December 14.
Ask a Question