Best CD Rates This Week Bring Little Holiday Cheer
With the last Friday for this year being a holiday, it looks like 140 will be the total number of bank failures for this year. FDIC regulators had an especially busy day Friday, closing 7 banks as the banking industry, particularly small banks, continues to feel the effects of the economic recession.
Low Interest Rates
Adding to the anxiety of the country's savers is the Fed's decision to continue to keep interest rates low for a longer period, at levels that were unheard of prior to the economic downturn. And while this is already an oft-repeated announcement from the Federal Reserve, hearing it said yet again has left most consumers wondering just how long that "extended period" will likely be.
On a positive note, the unemployment rate continues to drop in many states, and it is common knowledge that reducing the jobless rate is a major factor in nursing the economy back to recovery. While the slightly improving unemployment scenario is still far from ideal, it is yet another indicator that the worst may be behind us.
Unlike the jobless figures however, CD yields have so far shown little improvement and continue to slide down. This week's best CD rates for instance have only been maintained, or worse, reduced.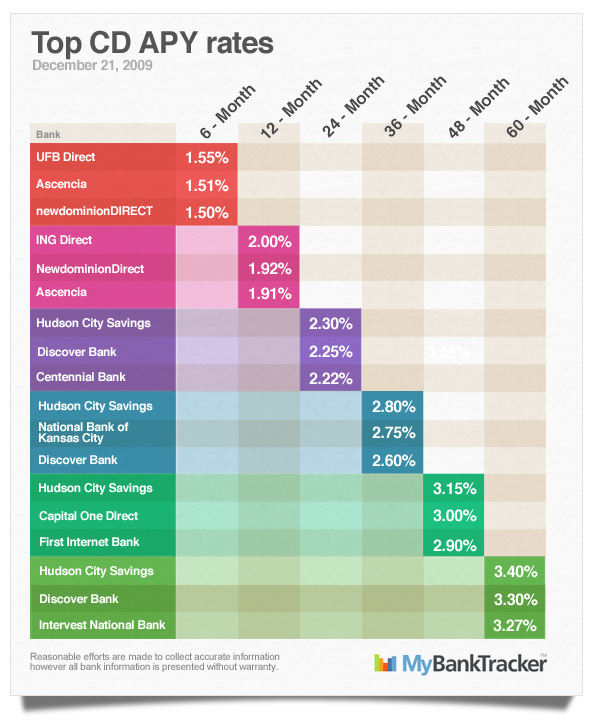 6-month CDs
The three highest 6-month CD rates still belong to the same banks we featured last week. These are UFB Direct with 1.55%, Ascencia with 1.51%, and newdominionDIRECT offering 1.50%.
12-month CDs
Online banking giant ING Direct continues to lead the best CD rates for the 1-year term, giving a yield of 2.00%. Just like for the 6-month CDs, newdominionDIRECT and Ascencia are not far behind offering 1.92% and 1.91% respectively.
Consumers should note that another online bank that used to offer some of the most competitive CD yields, UmbrellaBank.com, is now under new ownership when its parent bank, New South Federal Savings Bank, was taken over by the FDIC last Friday and was promptly acquired by Plano, TX-based Beal Bank.
24-month CDs
The top yields for 2-year CDs and the banks offering them also remain the same for this week. Hudson City Savings Bank is still highest with 2.30%, then Discover Bank with 2.25%, and finally, Centennial Bank with 2.22%.
36-month CDs
As in the previous weeks, Hudson City Savings Bank continues to give savers the best option for 3-year CDs with a rate offering of 2.80%. While National Bank of Kansas City still follows at 2.75%, Discover Bank now joins the top three highest 36-month CD rates, replacing First Internet Bank's 2.65% offer last week which underwent some rate cuts.
48-month CDs
This week's highest 4-year CD rates also still come from familiar institutions: Hudson City Savings Bank – 3.15%, Capital One Direct Banking – 3.00%, and National Bank of Kansas City – 2.90%.
60-month CDs
For 5-year CDs, the rates offered and the banks giving them were maintained as well, starting with Hudson City Savings Bank's 3.40%, Discover Bank and OneWest Bank's 3.30%, and Intervest National Bank's yield of 3.27%.
For an updated list of the best CD rates in your area, check our comprehensive database of CD rates available.
Ask a Question